Sharon Stone To Host Wrestling's SummerSlam?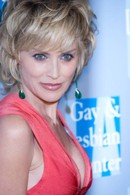 Sharon Stone has been issued an odd challenge by the boy she babysat as a teenager - host the wrestling world's SummerSlam TV spectacular for his 50th birthday in 2012.

Jim Burkhart, who was born with Down Syndrome, has always maintained a close friendship with his famous former babysitter and now he wants her to do something special for him.

Stone tells news show Extra, "He wants me to host the SummerSlam wrestling show for his birthday next year."

The actress has not made it clear if she is considering the request or if she has had negotiations with the organizers of the 2012 SummerSlam event.