Sharon Stone Talks Plastic Surgery, Sex In Her 50s In New Interview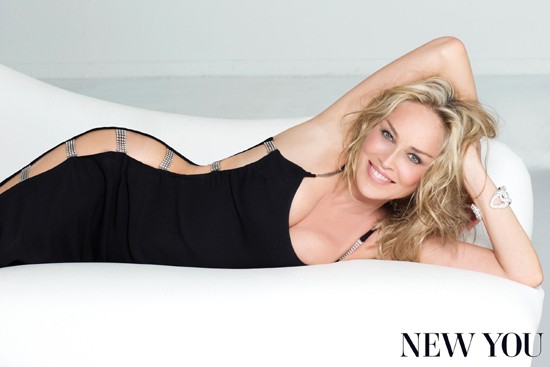 Sharon Stone has opened up to NEW YOU magazine about why she seriously considered getting a facelift (but didn't), the beauty of aging, and what sex is like for women in their 50s.
It's hard to believe that the actress is 55. And she's not fighting aging like so many people do.  She explained, "People are afraid of changing; that they're losing something. They don't understand that they are also gaining something. I thought I lost the deep vortex on my eyelid that you have when you're younger, but I gained almost a kind of beautiful abyss. As I lost the fullness in my face, I got in these great cheekbones."
While some stars admit to plastic surgery, and others deny it, Stone says she seriously considered going under the knife before pulling the plug at the last minute.
"I can't tell you how many doctors try to sell me a facelift. I've even gone as far as having someone talk me into it, but when I went over and looked at pictures of myself, I thought, What are they going to lift?," she said. "Yes, I have come close— but, frankly, I think that in the art of aging well there's this sexuality to having those imperfections. It's sensual."
But she has no problem with other women who decide that they need a little nip and tuck.
"If you have things that you want to fix, you should go right ahead and fix them. I don't think there is anything wrong with cosmetic surgery at all. I think it's great," she said. "But I don't think it's alright to distort yourself. You can't treat an illness with cosmetic surgery, and that's why it would be great if there were qualified therapists in plastic surgeons' offices, and that people would go to a therapeutic meeting before plastic surgery. I think that should be part of the FDA requirement."
Read more on page 2...