Sharon Stone, 55, Sizzles On The Cover Of Shape, Opens Up About Aging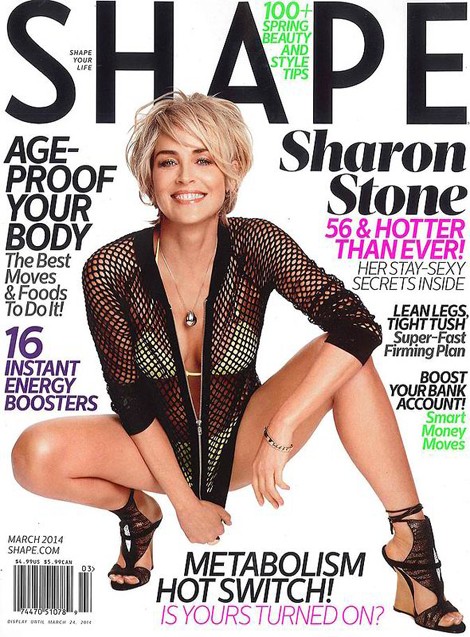 You wouldn't know Sharon Stone was 56 by looking at her. The actress is featured on the March cover of Shape magazine and looks incredible. Stone is featured wearing a bikini covered by a mesh top. Her body is lean and gorgeous.
But the actress admits getting older has been a struggle. She told the magazine: "It hasn't been easy. There was a point in my 40s where I went into the bathroom with a bottle of wine, locked the door, and said, 'I'm not coming out until I can totally accept the way I look right now.

"And I examined my face in the magnifying mirror, and I looked at my body, and I cried and cried and cried. Then I said to myself, 'You're going to get old now. How do you want to do that?' And I thought, 'I'd like to age like a dancer.' I want to keep my body in shape like that. I want to do the work. I like to dance and stretch. And I like going to the gym."

The magazine's cover blares: "Sharon Stone, 56 & hotter than ever! Her stay-sexy secrets inside." Stone says exercise, diet and avoiding alcohol keep her looking fit and fabulous.
"I like porterhouse steak, rib-eyes and New York strip. This works for me because I have very low cholesterol and low blood pressure. It's not good for everyone; you have to talk to your doctor about that. I also eat fish and cheese. I like clean food prepared as simply as possible," she said.

"I used to love wine, but I don't drink at all now. I think, at a certain point, it's better for women not to have any alcohol because it can make your face, breasts and midsection get very bloated."
Stone recently appeared in "Fading Gigolo" where she had an on-screen ménage à trois with Sofia Vergara. She appears in several upcoming films, including "What About Love" and "Mother's Day."