Sharon Osbourne: 'I Don't Care What People Think Of My Point Of View'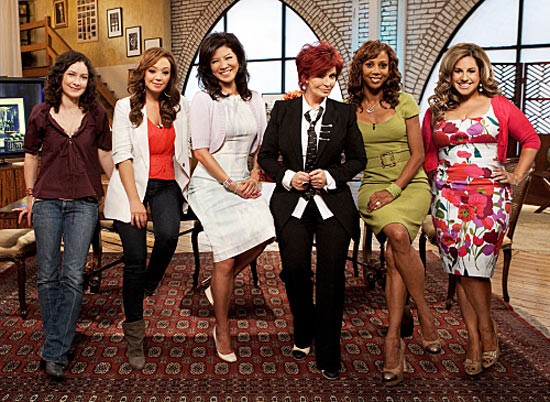 CBS is launching a new morning talk show this month. The Talk, spearheaded by Sara Gilbert, the morning show joins Julie Chen, Holly Robinson Peete, Leah Remini, Marissa Janet Winokur and Sharon Osbourne for reflection on the latest events. As different as these women are from the cast of The View, so will their conversations be different.
Osbourne returns to the talk show circuit for the group format. Her previous experience with The Sharon Osbourne Show was more of a solo host behind a desk, and she represents a judge's panel on America's Got Talent and X Factor. Of course her whole family has rocked TV from The Osbournes to Osbournes Reloaded.
When CBS presented The Talk to the Television Critics Association, Osbourne was mostly quiet. Will she be the strong, silent lady of the bunch? After the press conference, Osbourne got things going with a more intimate group of press. Maybe she's just saving her best stuff for broadcast. The Talk premieres Oct. 18
Q: What drives you to succeed?
Sharon Osbourne: I'm a winner. I'm a winner, not a loser. That's it.
Q: But it has to be winning because you're awesome and successful, not just winning by chance?
SO: I'm just a very driven person. I'm not a lazy person. I'm very motivated and I made my mind up years ago not to be a loser. I'm not a victim, I'm not a loser. I made my mind up as a kid.
Q: Speaking of driven, what kind of car do you drive?
SO: Anything that's out front my house. I am not big into cars at all so I don't look at them as a status symbol. Whatever is there at the time where there's a key, I'm taking it.
Q: With your lifestyle, what's in front of your house could be anything!
SO: Well, we have a different array of cars whether it's a Range Rover, a Bentley, I don't know. I'm not into them at all.
Q: Is your family worried about what you might talk about on the air?
SO: My kids have no idea that I'm here today, including my husband.  We work because that's how we live, but our work isn't, "Oh, great.  Oh, yeah, you are on telly.  Let's tune in to Mom."  They live their lives.  It's not of great importance to them. 
Q: What are some pet peeves you have with Ozzy that you might reveal?
SO: There is nothing. Perfect. He's so perfect.  Let me tell you something.  He doesn't even know I am doing this show. I am here today, and he thinks I've gone to America's Got Talent.  He has no idea. He gives me all the freedom in the world that I want.  He's just a perfect partner for me.  He does his thing.  I do mine. We have the best family.  We adore each other.  You know, yeah, my husband snores.  He farts.  He pisses on the seat, on the toilet seat, that is. But, hey, that's life.  That's what we all do. It doesn't annoy me.  It would annoy me if he was sleeping with a room full of women.  That would annoy me.  But if he throws food on the floor and he's messy, it doesn't bother me.  So he's perfect.
Q: Are you serious, Ozzy doesn't know you're taking this job?
SO: No. What I was saying about my children, they don't care. They're very proud of me and they're very, very supportive, but I don't call the kids up and go, "The show's got picked up, kids. Isn't it great?" It's not a big deal in my life. It's not a priority in my life so I don't make it in my children's or my husband's lives. "I got this" or "I'm doing this." It's just what I do so it's not a number one priority.
Q: Will we see any significant others or children on the show?
SO: I don't know because it depends I suppose what we're talking about at the time.
Q: You'll talk about them and they won't have a chance to defend themselves?
SO: Of course but it depends what the subject matter is.
Q: What if you talk about annoyances and they don't have a chance to respond?
SO: But you know what? I look at the bigger picture. When I was asked the question what annoys me about my husband? Nothing annoys me. I love him. So if he picks his nose or he farts, I mean come on. That's not an annoyance. I look at the bigger picture.
Q: What kind of music do you listen to these days?
SO: I listen to everything from Pavarotti to Coldplay. We have very, very, very broad tastes in music.
Q: What happened to taking some time off?
SO: This is, because it's an hour a day and there's no responsibility on me. I get to stay home.
Q: How did you get involved in this show?
SO: Sara called and asked if I wanted to come and sit and talk about a show and that was it. I've known Sara a long time. It's all about Sara.
Q: Will you get into politics or any views on current affairs?
SO: Of course, of course. I get bored by the baby stuff. Of course we will because that's what people are talking about. That's why we talk about what is current and what other people are talking about. That's why we called it The Talk, because whatever everybody is talking about, we'll discuss too.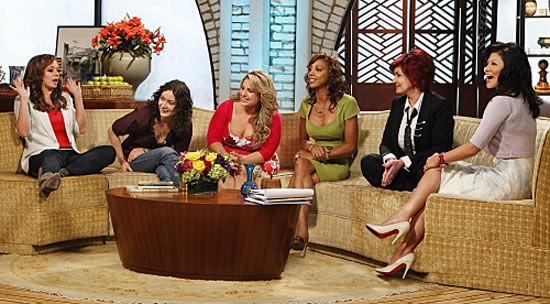 Q: How is the chemistry between the women on the show?
SO: It's a very, very varied group of women. It's very well balanced because we're all so different. I don't agree with a lot of it. A lot of it bores me but then some of it I absolutely adore. I love it and I can get right in there but that's good because we're all very different and you have to be different. It's no good getting a group of women where everybody goes, "Oh, that's lovely. Oh, I love that. I love you." It's sycophantic. It's not interesting and we don't all like the same things so that's really good.
Q: What subjects engage you?
SO: I'm more into a political point of view. I'm more into current events than baby talk.
Q: Do you ever carpool to work with Howie Mandel?
SO: Yeah, we absolutely, absolutely let me tell you. He's the best. He is so funny. It's such a joy to work with him. He's the best.
Q: How is Kelly doing?
SO: She's gorgeous. She's good.
Q: Who gave you your parenting advice?
SO: Unfortunately I didn't. I had to learn the hard, hard way, through my mistakes. I didn't have any mother. I didn't have anybody telling me anything so you learned from your mistakes, unfortunately.
Q: You made some good mistakes.
SO: I don't know, I don't know.
Q: Do you see yourself as the conservative representative of this group?
SO: I don't see it that way, no.  I'm very liberal with my views.  I'm a very, very tolerant, liberal woman, but certain things when it comes to kids,  I am very, very conservative.  You learn through your mistakes. 
Q: How are you conservative with your kids?
SO: It's just that, you know, it's a very, very fine line that you have to take with  children now because TV is so appealing to children as regards to celebrity and what it brings, and it's a very, very fine line.  And I know to tread it very carefully  because I know what it can do long-term for young people. 
Q: Are you going to be able to sort of make maybe unpopular statements and own those and be okay with maybe being known more for maybe opinions that are not popular?
SO: Well, the thing is, I'm not running for mayor.  So I don't care what people think of my point of view.  I have a point of view, and I'm not looking for votes.  So if people don't like it, fair enough, and if people do, then that's great, but that's the way I feel  about my opinion.