Sharon Jones And The Dap-Kings: The New Queen And Kings Of Motown

While
Amy Winehouse's
tumultuous personal life certainly qualifies her for the rank of pop star, bouncing in and out of rehab might delay any forthcoming performances and recordings she may have blessed us with.
Fortunately, her studio and touring band the Dap-Kings, who have been performing with soul songstress
Sharon Jones
for years, are continuing to make the kind of new Motown sound that Winehouse introduced to the mainstream.
The Dap-Kings have been the go-to in house band at Brooklyn's Daptone Records for the better part of a decade. Winehouse recorded her hit album "
Back to Black
" with Daptone Records using the Kings in 2007. The band, however, has been making records with vocal powerhouse Sharon Jones since 2002.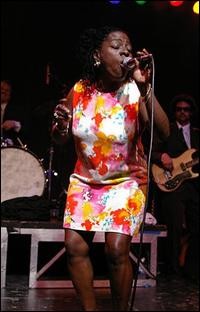 Jones and the Dap-Kings' soaring 2005 release "
Naturally
" was greeted with critical acclaim across the board. The album delivered just as its title promised, with Jones belting out naturally sassy, empowered vocals reminiscent of
Tina Turner
. The Dap-Kings outperformed the title of "backing band" with guitars that sail to the forefront and some of the smoothest brass recorded in the past 30 years. Jones' lyrics are mostly simple and anthemic - she belts out ballads about loving and being loved in true Rhythm & Blues fashion.
Jones and the Kings followed up "Naturally" with "
100 Days, 100 Nights
" in 2007. The album, like "Naturally," continues the tradition of stripped-down, analog production value that brings to mind
Curtis Mayfield
,
James Brown
or
Aretha Franklin
. Jones' lyrics reach a defiant pinnacle with "Nobody's Baby," a stern declaration of independence from conventional relationships and the men who have done her wrong.
At just over 30 minutes, the album is short, sweet and punctuated with pure and authentic Motown hooks. Despite its genuine throwback style of soul, "100 Days…" is sprinkled with modern riffs and themes, proving that Jones and her boys are the future of Motown.
Sharon Jones and the Dap-Kings are currently touring in the US, Europe and Australia in promotion of "100 Days, 100 Nights." They put on a remarkable show, and if you're lucky enough to witness Jones work her magic live, you may find yourself wondering just why the troubled young Winehouse is the one topping the charts.
Story by
D. Patrick Rodgers
Starpulse contributing writer