'Sharknado 2' Explodes On Twitter, Is Syfy's Most Watched Original Film Ever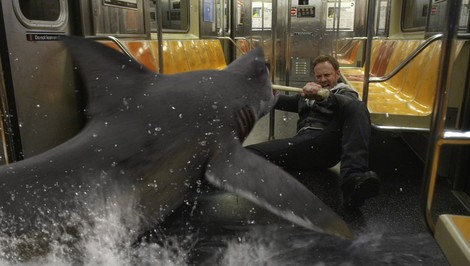 Nearly 4 million viewers tuned in to "Sharknado 2: The Second One" on Syfy on Wednesday night, making it the most watched original movie ever in the network's history.
"Sharknado 2" jumped 183 percent in viewership compared to the first film.
The shark-tastic program garnered a staggering 1 billion impressions on Twitter, according to a Syfy press release.  More people chatted about Sharknado 2 than Miley Cyrus during MTV's 2013 Video Music Awards, Kim Kardashian and Kanye West on their wedding day or Transformers, The Lego Movie, Godzilla and 22 Jump Street on each of the film's worldwide premiere days.
Among the many tweets, Mandy Bierly wrote: "Oh, see, now it's good that New Yorkers have shovels, machetes, and weapons in their cars."

Jags Movie Guy added: "Has anyone started a twitter account for @TaraReidsBloodyStump yet?"

"The brilliance of Sharknado 2 is the fact that it's more of the same. It's a similar formula but it's a different experience, similar situation in a new environment. And if people liked one they're going to love two," said actor Ian Ziering during a recent conference call.
Miss "Sharknado 2: The Second One"? It will also air Aug. 2 and Aug. 3 on Syfy.