Shark Week Kicks Off Its 25th Anniversary On Aug. 12 On Discovery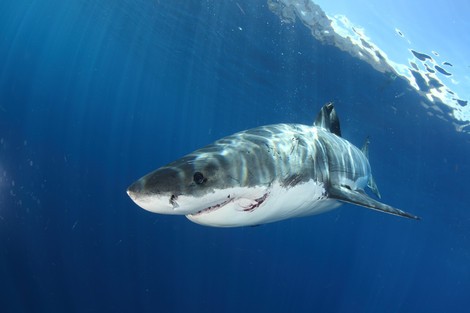 Cable's longest running programming event and everyone's favorite summertime ritual - Shark Week - celebrates 25 years on August 12.
Tune in to eight all-new shark-filled specials that get you so close to the action, if you were any closer you'd be bait!

Shark expert Chris Fallows and legendary natural history producer Jeff Kurr embark on a quest to learn more about the great white sharks of Seal Island, South Africa – and one shark in particular, Colossus, in "Air Jaws Apocalypse." 
Kurr and his team push the envelope even further with new hair-raising encounters… even if it means risking their lives for the ultimate close-up with the now-legendary 14-foot great white.

They've lost limbs and nearly their lives – but they haven't lost faith in the ocean's apex predator.  In "Shark Fight," relive the harrowing moments when all went wrong and sharks mistook humans for prey.  And learn why these victims turned what could have been tragedy into a tool for triumph, making it their mission to protect the lives of the very animals that almost took theirs.

In a groundbreaking partnership with Discovery Channel, a Stanford University research team, led by Dr. Barbara Block, sets out to tag the great whites of the Farallons off the coast of California in "Great White Highway."  They attempt to track where the ocean's apex predators are migrating in the Pacific, where they are meeting and possibly mating, and maybe where they go to give birth – something that continues to elude scientists.

Also new this year: witness the resurrection of the largest shark ever to swim in our oceans and test out its chomping capabilities with "MythBusters" stars Kari, Grant and Tory in Sharkzilla; relive some of the scariest, funniest and most memorable moments of the past 24 years in "Shark Week's 25 Best Bites"; learn the true impact one of the most legendary movies had on both audiences and the filmmakers in "How Jaws Changed the World"; watch the inspiring true story of two war heroes whosurvived shark-infested waters in "Adrift: 47 Days with Sharks"; and mark Shark Week's anniversary with none other than Adam Savage and Jamie Hyneman as they count down their top 25 shark myths of all time and reveal the #1 myththat will literally blow people away in "MythBusters' Jawsome Shark Special."

Tune in to the Discovery Channel this summer to celebrate 25 years of the ocean's apex predator taking over the network – and don't say we didn't warn you!