Shaquille O'Neal Earns Doctoral Degree In Education From Barry University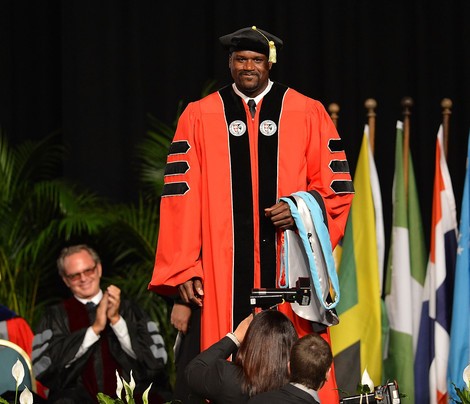 Shaquille O'Neal has brains and brawn. The retired basketball star earned his doctoral degree in Education from Barry University and he accepted his award during a commencement ceremony at the James L. Knight Center in Miami on Saturday.
 
He wore the school's traditional cap and red gown, which had been custom-made for the 7-foot, one-inch icon. The former Miami Heat and Los Angeles Lakers player had to bend down on one knee so his professor Dr. David M. Kopp could place a light blue hood around his neck in recognition of his studious achievements.
 
Accepting the degree, he explained, "Everyone thinks this is honorary. But this is not honorary. I put in four-and-a-half hard years staying up late at night, studying, reading, rewriting papers Dr. Kopp marked up."
 
O'Neal made the audience laugh when he picked up his professor, to the cheers of his fellow graduates, and later posed for photos with his doctorate.
 
O'Neal, 40, dropped out of high school as a teen, but he decided to get serious about his studies in 2000. He enrolled at Louisiana State University to earn his bachelor's degree. Afterwards, he took an online program and studied for his master's degree before working on his doctorate.