Shannen Doherty Took Fiance To Couples Therapy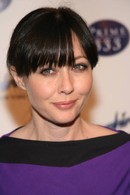 Actress Shannen Doherty enrolled in couple's therapy just weeks before her October wedding because she was sick of constantly fighting with her then-fiance Kurt Iswarienko.

The former Beverly Hills, 90210 star - and current star of TV infomercials about getting your college degree online - wed photographer Iswarienko in a lavish Malibu, California ceremony, which was filmed for her upcoming reality show Shannon Says, but the weeks leading up to her big day proved to be too stressful for the actress.

So she booked her and her husband-to-be in for counseling sessions to work out their problems to ensure they would make it to the altar.

In a preview of the new WEtv network program, Doherty - who has been married briefly twice before - is seen shouting profanities at Iswarienko, before saying, "I don't want to fight with you anymore. We're going to a shrink."

Shannon Says premieres in America on April 10.