Shania Twain's 'New Lease On Love'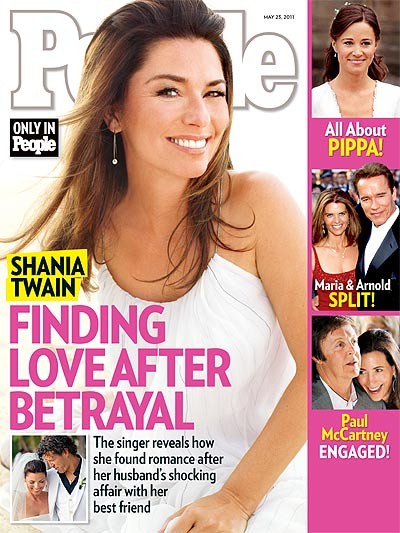 Shania Twain opens up in this week's issue of 'PEOPLE' about surviving betrayal - and finding love again. In the past three years of her life, her husband of 14 years asked for a divorce; she found out he was allegedly having an affair with her best friend; and then, despite all her efforts to fight it, she ended up falling in love with the other woman's ex-husband. "It is twisted," the country star, 45, says of the double betrayal turned partner swap. "But it is very beautifully twisted."

Whatever the circumstances, Twain is clearly relishing her second chance at love. She laughs easily when she's around Frédéric Thiébaud, 40, the Swiss marketing consultant she wed on Jan. 1. "I don't take any day for granted anymore," she says. "Fred has given me a new lease on love." She's even open to having another child ("If it happened, it would be lovely, but it's not a plan"). Most surprising of all, the famously private star is baring her soul in both her memoir, From This Moment On, and her docu-series on OWN, Why Not? With Shania Twain. "My closest friends and family say they haven't seen me this free-spirited and happy in years - many, many years," she says. "And it's definitely true."

At the height of her fame and fortune as the biggest country-pop crossover star of the late '90s, the singer struggled with the relentless career demands and the lack of anonymity. "I just wanted to forget who Shania was for a while," says Twain, whose given name is Eilleen. She took a break in 2004 and settled with her producer husband Robert "Mutt" Lange, whom she married in 1993, and their son Eja, now 9, in Switzerland - where she barely knew a soul - and "the isolation started to spiral," she says. "I wasn't expressing myself anymore." At the same time, she and Lange were growing apart. "It's very hard to be honest with yourself when something's just not working," says Twain, who devoured self-help books. "Mutt had already made up his mind on what was going to be done, but I was in the dark."

In March 2008 Lange told her he wanted a divorce. The next day Thiébaud broke the crushing news that he believed his wife, Marie-Anne, 40, - her best friend, to whom she had confided her marital problems - was having an affair with Lange, 62. The double betrayal sent Twain into a tailspin. "I was ready to die," she writes in her book. For weeks she barely ate or slept. In one e-mail to Marie-Anne, she wrote, "I am dying, and I can't take it anymore. This is killing me. Have mercy." But she never got an explanation from her husband or her friend.

The one time she did encounter the other woman, not long after the split, "I had a total panic attack," she says. "I just told her that she was a bad person - that's all I could get out! When I left her, I thought, 'You're such a wimp, you coward!' That was my big moment and I blew it!" Today Twain has no interaction with Marie-Anne and won't allow her to have any contact with Eja either. "I just have no desire," she says. "In fact, my desire is to avoid her!"

The singer's relationship with Mutt is more complicated. Their communication these days is "only about Eja, not about us at all," she says, somewhat wistfully. "It would be nice to be friends and not just co-parents...I will always love him. You can't just turn love on and off." Not that she's forgiven him and Marie-Anne, who, as far as she knows, are still together: "I will never be okay with what they did."

*Also In This Week's 'People'*

Arnold Schwarzenegger & Maria Shriver Split: "They Are Working On This Together," Says Source
Paul Mccartney Engaged To Nancy Shevell: "They Seem Like A Perfect Match," Says Source
Victoria's Secret Angel Miranda Kerr Says Liz Taylor Is Her Style Icon
Thor Star Idris Elba's Guilty Pleasure: "Love & Hip Hop On VH1. It Absolutely Sucks You In."

The new issue of PEOPLE is on newsstands now!
Click here for all the latest Shania Twain news & articles!
Click for more great Shania Twain pictures: