'Shameless' Recap: 'Hurricane Monica'
Well, things just got interesting. More interesting, that is, since Shameless is always at least somewhat interesting, even when it's hog-wild and off-the-charts. In last week's game changer, Fiona kicked Lip out of the house for dropping out of school and Monica showed up again after the death of Grammy. This week's episode, "Hurricane Monica," deals with the repercussions of both storylines, sometimes jointly, sometimes on separate planes.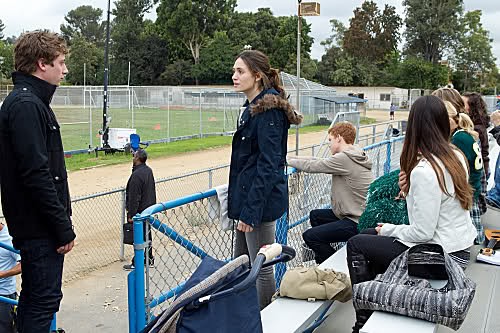 Lip's been staying with Karen and Shelia (and Jody), but when Shelia starts demanding rent, he hits the streets, sleeping on the subway, even begging Kevin and Veronica for a spare couch. They turn him away, not wanting to get into it with Fiona, who's on the outs in Lip's absence. So instead he bunks up with Steve and Steve's drug ring wife, Estefania. ("Do you realize you two have practically the same name?" Lip asks Steve.) Steve only agrees to the situation because Lip has the smarts to help him hack voicemails for his car-stealing charade, and to lure in Fiona. (Because Steve's kind of a dick, did you know?) Lip turns up to Carl's football game and gets a nasty surprise: the rest of his family is there, too, including estranged mother, Monica, who Lip detests.
Monica's return is an even more complicated situation than it was last season, when she showed up with girlfriend Roberta looking to take Liam away to God knows where and raise him for herself. The family promptly shooed her away, and she willingly forfeit her rights to Liam's future. But this new return, at the insistence of Frank, has somehow managed to bring the whole family (minus Lip) together in unsuspecting ways. Monica's sympathetic to Ian's situation with Mickey, and even takes him to a gay bar to cheer him up. She treats Debbie to a late night dance session after a drunken night at the Alibi Room. She even wins Fiona over when she talks dismissively of Estefania and urges Fiona to go after Steve. Even after Lip's interruption at the football game, things settle back into a weird normalcy, and the family parties the night away with neighbors and friends, on some (probably temporary) bout of togetherness.
For as trouble-ridden as Lip has been this season (he dropped out of school to provide for his pregnant kind-of girlfriend, even though his parentage of her child looks more and more unlikely as the season unfurls), he's the only one who can't warm to Monica, and rightfully so. If next week's teaser is any indication, it looks like Monica's return means nothing but trouble. But for now, it's nice to see the Gallaghers exist as they should: mother, father and kids in a harmonious cohabitation. ­It's sure to make the inevitable unfurling even more painful.
And of course, no episode of season two Shameless would be complete without a cliffhanger. This week: Terry Milkovich pounds through the Gallagher door and knocks down Ian, beating him bloody. But it's not because he's discovered Ian's sexual relationship with his son, Mickey. It's because his daughter, Mandy (Ian's beard/best friend), is pregnant. And if the TV stars are in their usual alignment, it would appear Terry's attacking the wrong Gallagher brother.