'Shameless' Advance Review: This Dysfunction Isn't Fun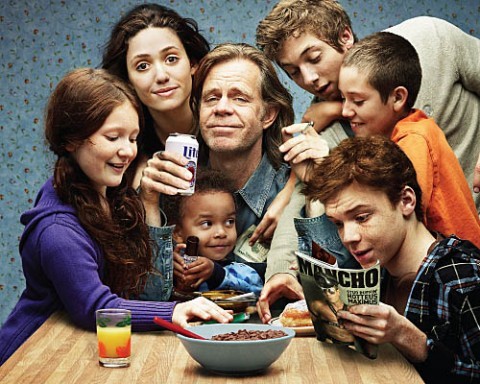 Starting next week, Showtime's Sundays leave Dexter behind to feature the return of Californication and two new series, Shameless and Episodes. I'll be previewing all three for you over the next few days, beginning with Shameless, which you may have seen when the network previewed twenty minutes of its first episode after the Dexter finale.
In case you didn't, though, here's the gist: it's yet another American version of a British television series. The original has a pretty impressive pedigree - it was created, produced and partially written by Paul Abbott, who's responsible for some great television, including Touching Evil and State of Play (which were remade as a TV series and a film respectively). Shameless is now entering its impressive eighth series in the UK, which will consist of twenty-two episodes (a length virtually unheard of for a British television series). The British version of Shameless has already been screened for US audiences, on both BBC America and the Sundance Channel.
Abbott is listed as a producer of this U.S. version, which is also produced by John Wells (Southland, ER). The plot focuses on the dysfunctional Gallagher family, led by patriarch Frank (William H. Macy), who spends most of his time drinking while his six kids (including Poseidon's Emmy Rossum) attempt to take care of themselves, with varying degrees of success. The pilot opens with Frank talking about how the most important thing in life is how to throw a good party, while Fiona (Rossum) spends the next morning trying to get everyone taken care of and pull together enough money to pay the electric bill. In the first few minutes, I felt the overwhelming need to slap someone.
To an extent, that feeling never went away for me as I watched the show's first three episodes. Technically, I suppose this is a comedy, but I wasn't really laughing. It's hard to care about Frank when he's behaving badly and getting away with it - for example, he's getting disability checks from the government and blowing large amounts of it on a bar tab. I just can't pull for someone who demonstrates the kind of irresponsible behavior there's far too much of today, especially when enough hardworking people are struggling to get by. This is a character-driven show, where the plots of the episodes are almost secondary, but his character is maddening, even if not intentionally so. William H. Macy is possibly one of the most likeable actors working, but even he can't make his character's conduct palatable.
However, because of that, it's hard not to feel for Frank's kids, particularly Fiona, who does anything and everything she has to in order to hold the Gallagher family together. It's her who's responsible for keeping everyone else in line, for getting them all taken care of, and so rarely having time to herself. We all probably know someone like Fiona, so it's easy to want better for her, and to be happy when she meets a nice guy named Steve (even if he is a car thief). The two of them are the most interesting characters, because while their lives may not be the best, at least their hearts are in the right places. They're trying to make better for themselves. The rest of the Gallagher clan falls somewhere between the two, all of them quirky but not well defined enough for me to decide if that's a good thing or a bad thing. Quirky does not necessarily equal funny; sometimes, quirky can just mean weird and off-putting, especially if you're Sheila, the neighbor who seems to have a thing for clowns.
That's what leaves me on the fence about this series. I just don't feel as if these are people I want to spend time with every week. There have been plenty of dysfunctional family shows on television before, but you grew attached to the characters, which made their quirks enjoyable or at least something that could be accepted. With Shameless, aside from Fiona and Steve, I haven't met anyone that I want to get to know any better, and I can't help but feel as if their unfortunate circumstances are at least partly of their own making (or at least of Frank's making). This is by no fault of the actors, who are certainly giving it their best (particularly Emmy Rossum, who exudes a certain amount of poise even as she's being run thin), but charisma has to be matched by roles that are equally engaging. The title of the show is a big clue that these people embrace their dysfunctions and shortfalls, but I just can't do the same.
Kudos to Showtime for bringing out a show about a struggling family in a time when many families are, but the Gallaghers aren't one that I want to stay with.
Episodes premieres Sunday, January 9 at 10 PM ET/PT on Showtime. You'll be able to catch it as part of Showtime's upcoming Free Preview Weekend.