Shakira Becomes First Colombian To Recieve Star On Hollywood Walk Of Fame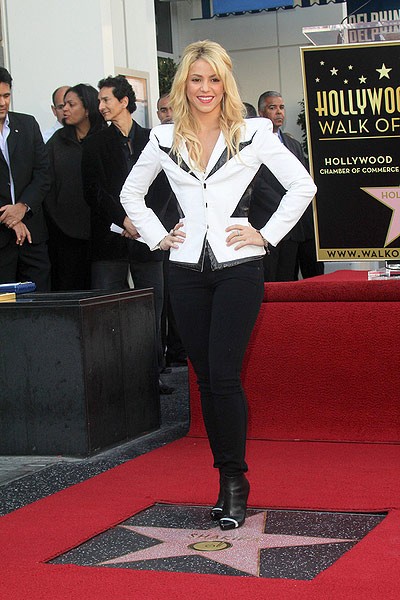 Born Shakira Isabel Mebarak Ripoll in Brranquilla Columbia, international pop superstar Shakira was presented with a star on the Hollywood Walk of Fame Tuesday, officially making her the first Colombian to receive such an honor.

Now immortalized forever in Hollywood with the 2,454th plaque on the Walk of Fame, Shakira's star can be found in front of the new W Hotel at the corner of the iconic Hollywood & Vine intersection.
"This is incredible. I would like to thank all of you," she said during the ceremony.
And the star unveiling - attended by hundreds of screaming fans - is just the beginning of what promises to be a big week for the singer. Wednesday night she'll be the guest of honor at a pre-Latin Grammys dinner where she'll be named the Latin Recording Academy's Person of the Year, an accolade she didn't just get for her musical efforts, but for her charity work with her Barefoot Foundation, whose mission is to make education universally available to every child.

The "Rabiosa" singer will then find out if her latest effort, "Sale el Sol," can win Album of the Year at the Latin Grammys in Las Vegas on Thursday night.

During Tuesday's ceremony, Shakira revealed that she toured Hollywood Blvd. & the Walk of Fame with her mother some 27 years ago, when she was just seven-years-old. Her mother told her, "Shaki, one day you'll have your own star here."
Always listen to your mother.