'Shakespeare In Love' Headed For The Stage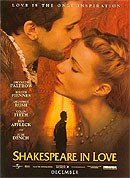 Celebrated playwright Tom Stoppard has teamed with Disney bosses to adapt his Oscar-winning Shakespeare In Love script into a theatrical blockbuster.

Stoppard, who dabbled with Shakespeare in his play "Rosencrantz & Guildenstern Are Dead," is to revamp his screenplay for the stage, according to Variety.

The play is expected to premiere in London, although no dates have been announced.

There are also no casting details available.

Gwyneth Paltrow won her only Best Actress Oscar for her portrayal of a cross-dressing noblewoman chasing Joseph Fiennes' Will Shakespeare.