Shailene Woodley Faked The Flu To Get Out Of Work And Audition For 'The Descendants'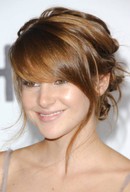 Actress Shailene Woodley faked the flu and skipped her shift as an American Apparel shop assistant so she could audition for a part in The Descendants.

The young star was living in New York City and working at the fashion chain when she received a call from her manager about the role. Not wanting to miss her second day of work, Woodley tried to set up a video chat with director Alexander Payne instead.

But he insisted on a face-to-face meeting in Los Angeles.

She tells Black Book magazine, "I was like, 'Can't we Skype or something?' I made a commitment at American Apparel, and I didn't want to let my bosses down."

Woodley eventually called in sick and secretly flew cross-country for the meeting, in a bid to keep her job in case the audition went sour.

She adds, "None of my co-workers knew I was an actor. And thank God, because I didn't want them to know. There's such a weird, preconceived image of what an actor is, and I didn't want anyone to think of me like that."

Her efforts paid off - Woodley's role as George Clooney's movie daughter has won her much acclaim and pundits expect her to be among the stars nominated for a Best Supporting Actress Oscar next month.