Shadows Fall Set Spring Tour

Atlantic recording group and two-time Grammy nominees
Shadows Fall
have unveiled details for their upcoming spring tour, a two-week jaunt that will see the band playing fourteen shows in as many days. The headlining trek kicks off on April 13th at Buffalo, NY's Showplace theater and winds its way through the eastern half of the country, wrapping up on April 25th at Towson, MD's Recher theater. Support on all dates comes courtesy of Katakylsm,
The Showdown
, Arsis, and Droid.
Shadows Fall will also be co-headlining a pair of hard rock extravaganzas. The band joins
Unearth
and
Otep
on April 18th for WSOU's 60th Anniversary Celebration at the Starland Ballroom in Sayreville, NJ. On April 27th, the acclaimed metal outfit returns home to co-headline the second night of the 10th Annual New England Metal and Hardcore Festival at the Palladium in Worcester, MA.
In other news, Shadows Fall has teamed up with
Eyespot.com
to give fans the opportunity to make their own music video mix for the band's Grammy-nominated song, "Redemption," using the original "Redemption" music video and exclusive, behind-the-scenes footage. The best mix will be featured on the band's official website and MySpace page as well as their Facebook profile and
Nonelouder.com
. The winner also receives a Shadows Fall autographed prize pack. Details are at
www.eyespot.com/promotion/shadowsfall
.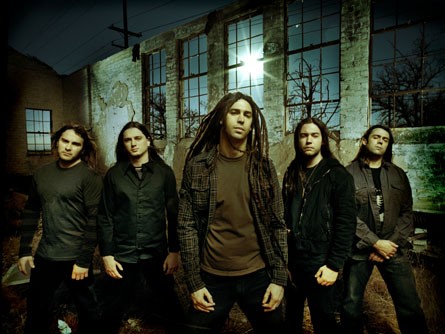 This past weekend, Shadows Fall wrapped up their most recent international tour with a March 15th show at Manila's Avenue Hall in the Philippines. The incredible run saw the band making stops in Korea and Japan as well as joining the high profile Soundwave 2008 tour, sharing stages with multiplatinum rock acts
The Offspring
and
Incubus
throughout Australia.
Shadows Fall are unquestionably among the most potent music forces in modern metal, having recently received a 2008 Grammy nomination for Best Metal Performance for the song "Redemption," from their critically acclaimed Atlantic debut,
Threads Of Life
. Clearly a leader in their genre, this marks the band's second Grammy nomination in the category, following their nod at the 2006 awards for "What Drives The Weak," from their Century Media release,
The War Within
.
Melding full-on thrash power with melodic, pulverizing hooks, Shadows Fall are one of the preeminent metal bands of their day. The Springfield, Massachusetts-based five-piece's label debut, "Threads Of Life," is their most acclaimed work to date. Produced by Nick Raskulinecz (Rush, Foo Fighters, Velvet Revolver), the album was described by Spin as "Ferocious hardcore precision, like the metal gods intended." Alternative Press awarded the album 4.5-out-of-5 stars, celebrating the collection as "the most unashamedly 'true' metal album any major label's released yet this year – and it's also one of the best." Shadows Fall are: Matt Bachand – guitar, vocals; Paul Romanko – bass; Brian Fair – vocals; Jason Bittner – drums; Jon Donais – lead guitar, vocals
411:
Starpulse page
Official Site
MySpace
Shadows Fall Headlining Tour 2008
APRIL
13 Buffalo, NY Showplace theater
14 Flint, MI The Machine Shop
15 Millvale, PA Mr. Small's theater
16 Poughkeepsie, NY The Chance
17 Farmingdale, NY The Crazy Donkey
18 Sayreville, NJ Starland Ballroom
19 Allentown, PA Crocodile Rock
20 West Springfield, VA Jaxx
21 Raleigh, NC Lincoln theater
22 Fayetteville, NC Jester's Pub
23 Jacksonville, NC Hooligans
24 Richmond, VA The National
25 Towson, MD Recher theater
26 Worcester, MA The Palladium