Sexy Supermodel Battle: Kate Upton Vs. Bar Refaeli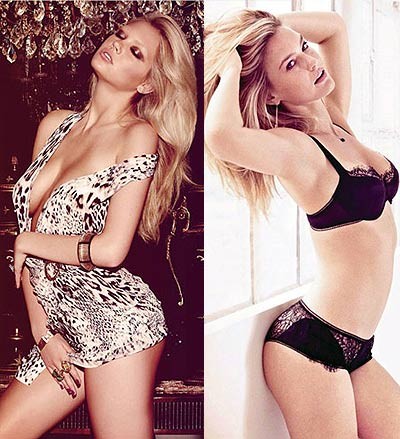 Kate Upton and Bar Refaeli are two of the hottest supermodels around right now, thanks to tons of exposure from both Sports Illustrated and Maxim magazine.

Upton, the voluptuous American who covered SI's annual Swimsuit Issue in February, has had no qualms about flaunting her assets for numerous print and TV ads; including hamburger chain Carl's Jr. (watch it here), apparel company Zoo York (watch here), and DirecTV (here).

She's also done numerous racy magazine shoots for the likes of GQ (one here and one here), Esquire (here), and Contributor (here).

Sexy Israeli Bar Refaeli, on the other hand -- a former girlfriend of Leonardo DiCaprio -- recently topped Maxim magazine's 2012 Hot 100 list.

The fun loving model is known to share lots of pictures of herself via her twitter page; and has her own underwear collection called Under.me (see her sexy ads here and here!)

She recently showed off her sexy curves in a skin-tight lace bodysuit (pics here).

So who do you prefer?