Sexy Star Without Makeup: Jessica Alba Dining In Beverly Hills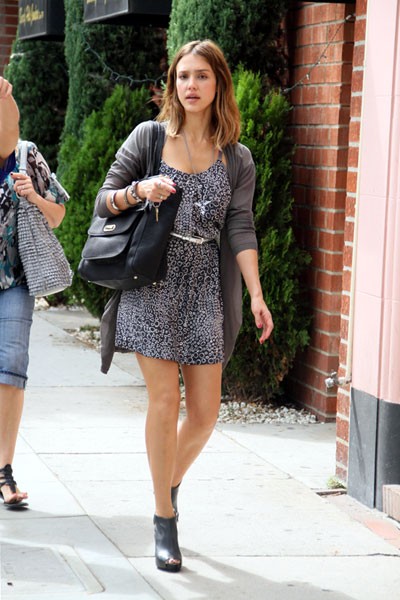 We spotted a barefaced Jessica Alba leaving Urth Cafe in a summer dress after having lunch with friends in Beverly Hills yesterday.
The actress recently confessed she's not very comfortable with on-screen sex. The modest movie star, who insists on keeping everything covered up on the big screen, balked when she saw the first draft of the script for "Machete" and asked pal Robert Rodriguez to rewrite her twin characters.

She explained, "In the original script, I played twins, and there was a lot more sex. I'm not very comfortable with that stuff. I get freaked out and nervous.
Jessica stars in the upcoming film "Little Fockers" in which a birthday party for the twins gives Greg (Ben Stiller) an opportunity to redeem himself after he takes a job that raises the suspicions of his overbearing father-in-law, Jack (Robert De Niro). It's the third installment of the hit comedy series.
Click for more great Jessica Alba pictures: