Sexy & Single Heidi Klum Rocks A Skin-Tight Dress & Thigh-High Boots At The Kids' Choice Awards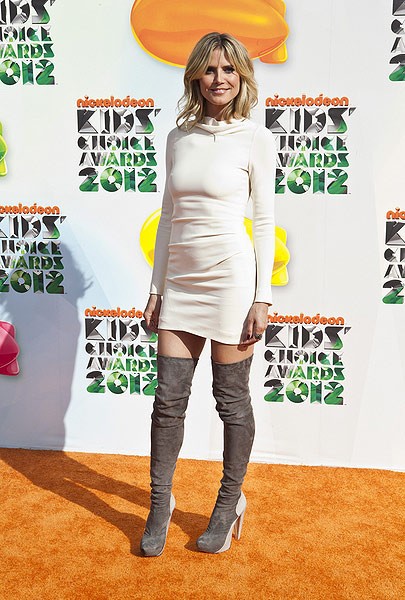 Newly single America's Next Top Model host Heidi Klum showed up to the 2012 Nickelodeon Kids' Choice Awards Saturday night at the Galen Center in Los Angeles, Calif., wearing a figure-hugging cream colored Roland Mouret dress and a pair of brown suede thigh-high boots.

It seemed as though the fashion theme on this year's red carpet was showing plenty of leg, and the sexy supermodel looked just as hot as the 18-24 crowd while covering hers up.

Heidi presented an award with Chris Colfer, and being that it was the Glee star's first time at the KCAs the veteran let him know that you can't trust anyone at the yearly event. Shortly after, Colfer found himself drenched in the network's signature Green Slime. (pic below)

Nickelodeon's gooey green stuff has been around since March 17,1979, when it was originally featured on Canadian TV series You Can't Do That On Television - one of the first shows the new Nickelodeon network picked up in the early 80s. Any time a cast member uttered the phrase "I Don't Know" a bucket of the green goop was dumped on their head.

Likewise, if someone mentioned the word "water", a bucked of water was thrown on them from off-camera.