Sexy Russian Student Ania Korkh Is Kate Upton's Doppleganger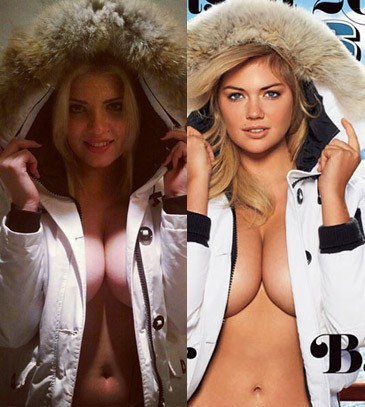 Does Kate Upton have a twin sister? The Sports Illustrated Swimsuit model posted an image of an equally well-endowed blond -- with a matching mole on her upper lip, even -- to her Twitter page on Tuesday, but there's no relation.

The lovely lady who went topless in the same white winter coat Upton can be seen wearing on the cover of the 2013 SI Swimsuit Issue is actually a Russian student named Ania Korkh. She currently lives in Vancouver and she's actually two years older than Upton.

Asked what made her want to mimic Upton's pose from her Antarctic swimsuit shoot, Ania tells Sports Illustrated's "Swim Daily" blog it was all because of the jacket.

"I've been told I look like her in the past, but when the SI issue came out and she was wearing the same jacket that is hanging in my closet, I knew it had to be done," she says.

Her Twitter page tagline read, "Mail order bride in training," on Tuesday, but she had to change that to "Not actually a mail order bride" after some websites took the line a little too literally.

"Alright, let's try this again. Contrary to popular belief I am not a mail order bride," she wrote. "The Huffington Post is not always correct.." (Yahoo's OMG blog also referred to Korkh as a mail order bride).

Upton re-tweeted Ania's post on her Twitter page on Tuesday, gaining lots of attention for the 22-year-old student and calling her photo "amazing!"

Ania's says her Twitter following went from 78 to over 2600 thanks to the re-tweet; and says her friends have been telling her that she could be Upton's stunt double. "If she ever needs one."


Click through to check out more pics of Kate Upton's doppleganger Ania Korkh and see more of the resemblance -- even in a bikini...