Sexy Paula Patton Shows Some Serious Leg At The 'Mission: Impossible - Ghost Protocol' Premiere In Munich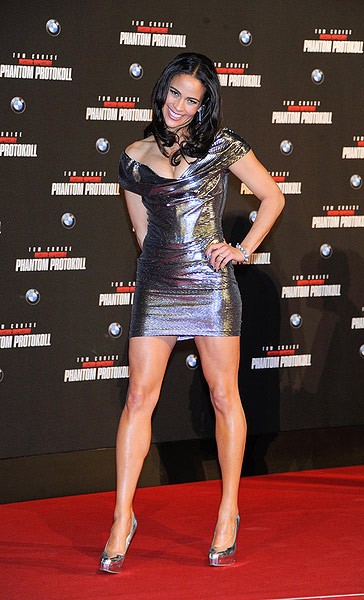 Paula Patton showed lots of leg in a sexy silver Vivienne Westwood corseted mini-dress and silver Brian Atwood heels at the Mission: Impossible - Ghost Protocol premiere in Munich, Germany on Friday.

Patton, who's married to singer Robin Thicke, steams up the singer's latest video, "Love After War," the title track from his fifth studio album. And Thicke gives his better half all the credit for the video's racy themes.

"She [Paula] loves French film, and she was like honey, what if we did the video based on this movie," he tells BET.com.

That movie was Jean Luc Godard's 1963 film Contempt, starring screen legend Brigitte Bardot.

"She put on this blonde wig," Thicke explains, "and [like the theme of the film] we just tried to create that tension that you have in a relationship when things aren't going right."

Paula features on the cover of the December 2011/January 2012 issue of Complex magazine; and inside she dishes on the experience making the fourth Mission: Impossible film and working with star Tom Cruise

"Making Mission: Impossible was a dream come true. It challenged me as an actor because it's so technical. Any time you're challenged you get better. I learned so much from working with Tom Cruise — it was remarkable. Also, I got to do my own stunts, and that felt more freeing than anything I've ever done. To be able to be that physical was exciting."

Check out pics from Paula's steaming hot photoshoot at Complex.com. Watch the trailer for M:I 4 here.


Check out Robin Thicke's "Love After War" video below and see more hot pics of Paula from the M:I 4 premiere on the following pages!