Sexy 'Glee' Star Naya Rivera Prefers TV High School To The Real Thing: 'I Was Super Flat Chested And Really Skinny'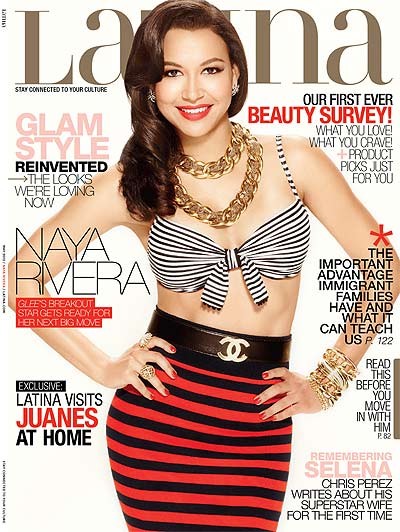 Sexy Glee star Naya Rivera has her first solo album on the way, and talks about her new album deal with Columbia Records in the May 2012 issue of Latina Magazine, which hits newsstands everywhere April 10.

"So far I'm doing some awesome club songs that are fun to dance to," she says. And Glee co-creator Ryan Murphy thinks she's good enough to make it big - "She can and will be on the radio," he says.

Naya, who plays recently outed lesbian Santana on the hit Fox series, also talks about her religious upbringing and beliefs and her character's upcoming graduation.

"It's hard and sort of sad that you do feel like you need to tread lightly when you say, 'Yes, I do go to church and I read the Bible,' because once you do that people will be like, 'Why are her boobs out? Why is her midriff showing? Why is she playing a lesbian?'

"I don't want to deal with that stuff, and so I've never really discussed it. It's very personal," she says.

How will Santana's graduation on Glee affect her career?

"Personally, I want to stay on the show for as long as they'll have me," she says. "I see it as my little home base."

And it's hard to believe that the gorgeous Latina wasn't popular in high-school and prefers the one she acts in to the real thing.

"I always knew I liked being on sets more than anything in the world, especially high school," she says. "I was super flat chested and really skinny. I didn't have any boyfriends and didn't go to any high school dances."


Check out more of Naya and read her full interview in the May issue of Latina magazine!