Sexy Cosmo Cover Girl Cameron Diaz: 'You Get Better As You Age'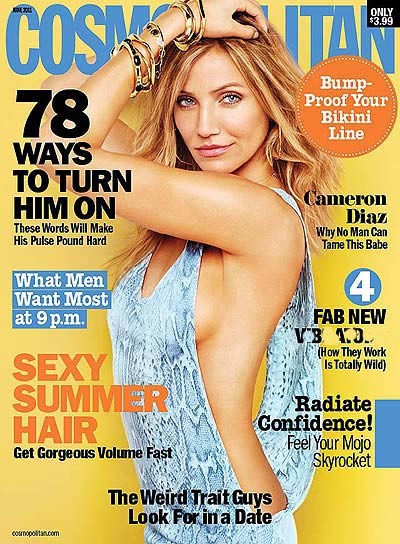 Cameron Diaz sizzles on the cover of the June issue of Cosmopolitan magazine, which hits newsstands on Tuesday, May 10.

The actress stars in the upcoming Bad Teacher, about a foul-mouthed teacher who can't stand her job and thinks a well-to-do addition to her school's faculty is her ticket out of her dead-end job. Cameron's ex-boyfriend, Justin Timberlake, plays her love interest in the film; however she recently confirmed rumors of her relationship with New York Yankees third baseman Alex Rodriguez.

"Yes, Alex is my boyfriend. It's not a secret anymore," she says.

The sexy star opens up in the new issue of Cosmo, revealing her life philosophy, "I think you get better as you age. You know what you want, and you become stronger mentally, emotionally, and physically," she says.

"But also, things have happened recently that have pushed me to grow. My father died, and having gone through that really made me think about my life and how I want to live it."

But Cameron's not the only one talking about Cameron in the issue, her pal Drew Barrymore had some kind words to say about their friendship.

"She's my sister, but we bro out and have crazy adventures. I always know that she is game. Most people don't know this, but she's very edgy…That has been a big part of our friendship, knowing that she will throw down at any time as well as that sisterly, cozy, nurturing love that we have."

Check out more of Cameron in the June issue of Cosmo!
Click for more great Cameron Diaz pictures: