Sex Tape Of 'Real Housewives Of New Jersey' Star Danielle Staub To Be Released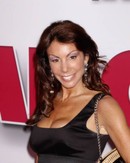 Bravo Reality Star Danielle Staub apparently has been working overtime with a camera. TMZ earlier today reported that Hustler Inc. will be releasing a 75 minute sex tape of the Real Housewives New Jersey star on June 24 and which will be available for presale Monday June 14.
This is not a rewind story of last year where ex-boyfriend Steve Zalewski was blocked from releasing a sex tape and explicit photos. This is a completely different tape.
Apparently this is a mystery man in this new video and Staub is aware of the tapes existence.  "She knows it's being released, it was shopped to Hustler by a third party who purchased the rights to the video. They purchased the tape legally from an undisclosed party, maybe a rep or an agent. They wanted us to be the distributor." Hustler tells E! News.