'Sex And The City' Is Back & The Stars Discuss Their Adventure In Abu Dhabi In This Week's EW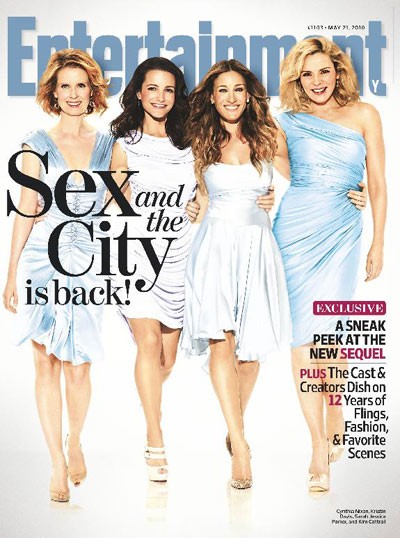 Two years after breaking box office records with their first feature film, the "Sex And The City" gang hopes audiences are ready to get carried away again - this time all the way to Abu Dhabi.

On the same majestic dunes that Peter O'Toole famously crossed in "Lawrence Of Arabia" almost 50 years ago, Sarah Jessica Parker and her costars - Kristin Davis, Cynthia Nixon, and Kim Cattrall - mastered the art of strutting through the desert in stilettos. They also learned to ride camels…while decked out in really, really expensive clothing. "Kim and I had this camel that without any warning would just sit down whenever he wanted. And we were dressed like lunatics!" Parker says. "Designer couture on camels. And I mean Couture. I had some vintage Dior pieces from the couture archives on a camel."

Unlikely as it may seem, the idea to send the ladies on an exotic five-star vacation sprang from the recession. "We were in the middle of an economic downturn, and I realized that during the Great Depression, the movies' job was to go to a bit of an escapist's bend," says King, who took over as show-runner on the HBO series after creator Darren Star stepped down in 2000. "So I thought, let's take everybody on a big, fun trip. Because I don't think people want to see Carrie Bradshaw selling apples under the bridge."

The lack of fan scrutiny spared everyone from resorting to fake-out tactics, such as the day King sent Cattrall to the New York set in a wedding dress. John Corbett (Aidan) even managed to stay in Morocco for two weeks without a word of it leaking to the press. "I couldn't believe that I got to go there and the paparazzi never caught me," says the actor. "The whole time we were there, one guy got a shot off, but I had a little bag I was carrying and I got it up in front of my face. That was the only photo - a big, tall guy with a bag in front of his face."

The Men And Africa

John Corbett was the only actor who definitely made it to Morocco. How did the other guys feel about being left home?

"I had [the series finale in] Paris, but I was still really f---ing pissed! Corbett gets to go? I said, 'If there's another one, Carrie and Big are going on a worldwide f---ing tour because we need to spruce things up before her first baby or something.' I don't know I'm making it up." - Chris Noth (Big)

"Kim [Cattrall] was like, 'I want to take you! Oh, it's beautiful! You've got to go!" I was like, 'You saw it through the Prince of Persia's eyes, with his security 24/7, helping you on the camel. That's why you enjoyed it.' They'd say to me, 'Get on your camel yourself, and carry your own rug!' I'm not going. - Mario Cantone (Anthony)

"I love it, because I was ultra-jealous of those guys when they got to be in the first movie. I called Noth on his birthday while I was there. I passed the phone around. I couldn't wait to rub it in, because he was really bummed out that he couldn't come. I like creating jealousy."-Corbett

An Oral History

The stars and creators share their juiciest memories of making "Sex and the City" and reflect on the franchise's continuing legacy.

Darren Star, series creator - "There was one event that coincided with the show getting on the air, which I thought was incredibly timely - the Bill Clinton - Monica Lewinsky thing. The entire country was suddenly forced to talk about blow-jobs. That forced the country to be more open about acknowledging sex. It's like an episode of SATC. The cigar episode!"

Kristin Davis (Charlotte) - "Our first day on the set, Sarah Jessica had this big thing of Krispy Kreme doughnuts, and she invited me to her trailer. She [said] 'Let's hang out and get to know each other.' We had 18-hour days, so we bonded pretty quickly. The most famous person on the set, you take their lead."

David Eigenberg (Steve) - "I read for maybe nine characters in the show before they hired me for Steve. I read for the p---y guy, always talking dirty about p---y or something like that. I wasn't really excited about doing that because… I've done everything, but my mother would be like, 'Why'd you have to play that role? Couldn't you have got something different?' I remember having to fake orgasm in their office once. That was awful."

Sarah Jessica Parker (Carrie) - "I don't know that I love being associated with the piece of underwear being above a pants waist, which my husband says I'm responsible for but I don't think so. I think Britney Spears is responsible for that."

Cynthia Nixon (Miranda) - "We did a lot to get rid of panty hose. And God bless, because other than a cold day, why would anyone want to wear panty hose? They're really ugly. They're not the color of your legs. I feel that's a nice thing."

Read more at EW.com and get the whole story in this week's issue of Entertainment Weekly, on newsstands May 14th!
Click for more "Sex And The City" pictures: