Seth Rogen To Star In Phone Sex Movie With New Wife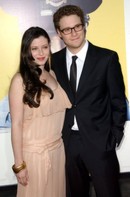 Actor Seth Rogen has landed a raunchy role in his wife Lauren Miller's new comedy - as a saucy airplane pilot.

The funnyman recently began shooting scenes for upcoming movie "For a Good Time, Call...," and admits it was the first time he has had a chance to work with Miller, who he married last month.

He tells Esquire magazine, "She (Miller) wrote this movie called 'For a Good Time, Call...' about two girls who start a phone sex line, and I play one of the callers, an airplane pilot.

"We were figuring what kind of people would actually call phone sex lines and we thought airplane pilots probably do. They're on the road a lot."

And Rogen insists working with his wife was a fun experience: "She was very nice to me on set. She didn't yell."