Seth MacFarlane's Beverly Hills Mansion Targeted By Vandals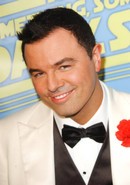 Seth MacFarlane's home in California has been targeted by pranksters who covered the property in toilet paper.

The Family Guy creator's house in Beverly Hills was covered in white paper on Monday night and the gang left a note on the front door apologizing for the attack.

The letter appeared to reveal the vandals were taking revenge for MacFarlane's part in Charlie Sheen's Comedy Central Roast earlier this year, according to TMZ.com.

The letter reads, "Sorry Seth" and includes several of Sheen's catchphrases including "Winning!" and "Tiger Blood".

MacFarlane subsequently laughed off the incident, telling fans on Twitter.com that he "Got in a brawl with a mummy. I won."