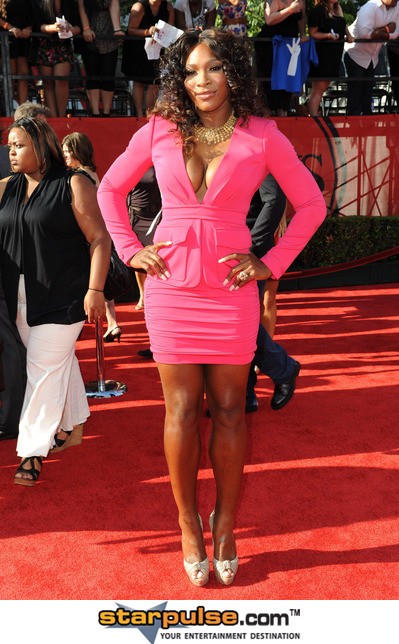 What is there to say about the new Wimbledon champion Serena Williams? …Well, in a word, she's major. As a tennis player - major. As a businesswoman – major. As a global star – major. This iconic 30 year-old has led such a dramatic life that, like a 163rd seed, standing down court, trying to figure out how to return her serve, it's difficult to know where to start. What's made her major?
Born Serena Jameka Williams in Saginaw, Michigan, September 26, 1981, Serena spent her early years in Compton where she first picked up a racquet aged five. Four years later, she and her family moved to West Palm Beach, Florida and father Richard soon took on all her coaching. What he and his daughter built was major: The most powerful serve in women's tennis, a rocket return, ferocious forehand, brutal backhand, delicious drop shot – (see game 7, set 3 of this year's Wimbledon final). In short, the complete package.
In her first professional match at 13, she lost to the world number 149 in Quebec City, earning just $240. In her latest professional match 17 years later, she beat the new world number 2 at Wimbledon and has won more career prize money than any female athlete in history.
In truth, her whole career is a procession of eye-popping stats like that:
29 Grand Slam titles (14 in singles, 13 in women's doubles, and 2 in mixed doubles). 5 Australian Opens, 1 French Open, 5 Wimbledon Titles, 3 US Opens, 2 Olympic golds and on and on. She's been major off the court too. A Sports Illustrated model, fashion icon, designer, entrepreneur, philanthropist and so much more. But in truth, what makes this woman truly major is not how she's dealt with the good. But how she's dealt with the bad.
The bad, like everything in Serena's life, has been major. The racism she had to deal with growing up in a predominantly white sport. The brutal murder of her sister Yetunde Price, shot dead by a Crips gang member, sending Serena into depression and therapy. The stalker arrested at her Palm Beach home last year. But above all, the life-threatening health issues of the last couple of years.
At the top of her game in the summer of 2010, riding high after winning a fourth Wimbledon, Serena had the world at her feet. Sadly, at a restaurant in Munich, she had a piece of glass at her feet too. One fateful step set off a horrific chain of events: The glass cut the foot. The foot needed two operations. The operations caused a near-fatal blood clot in one of her lungs. The blood clot in her lungs needed emergency surgery, costing her part of her lung and the best part of two years of her career.
For an all-star athlete at the peak of her powers to be unable to walk, let alone fire off a forehand winner, was the cruelest of fates. Serena was at rock bottom. But, whether it's a tennis player, a creative challenge or a serious health issue, put anything in Serena's way and she puts it away.
With characteristic drive and determination, Serena threw herself into months of lonely, grueling physiotherapy and dedicated training. She made her first appearance on the WTA tour in almost a year at Eastbourne, England, where she won her first match since Wimbledon 2010. Slowly but surely her fitness, desire, and momentum built through matches at Wimbledon, Stanford, Cincinnati and the US Open, reaching a fairytale ending at yesterday's Wimbledon, where she won back her women's singles and doubles titles.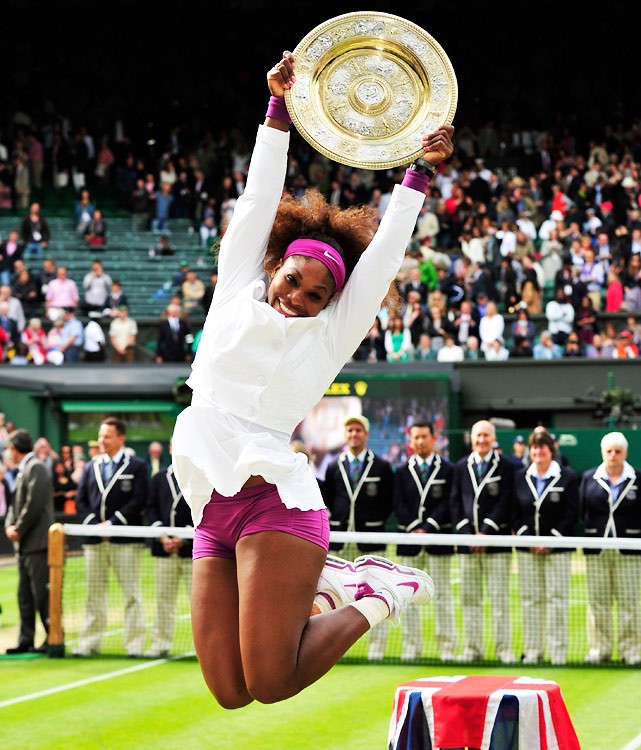 Last year she couldn't walk. This year she's hopping around Wimbledon centre court hoisting a trophy over her head. That's what makes Serena Williams major.