Selena Gomez & Vanessa Hudgens Dazzle At The Premiere Of 'Spring Breakers' In Venice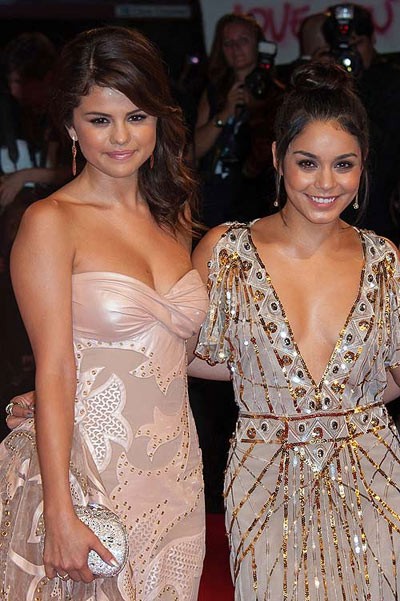 Former teen stars turned grown-up stars Selena Gomez and Vanessa Hudgens looked elegant on the red carpet for the premiere of their upcoming film Spring Breakers at the Venice Film Festival Wednesday night.

Selena opted for a very light pink strapless gown while Vanessa took the plung with a deep neckline. The two were joined by co-stars Ashley Benson and Rachel Korine, who shimmered in blue and gold, respectively.

The four stars appeared to have loads of fun shooting the film earlier this year when they were spotted cruising the streets of St. Petersburg, Florida in bikinis on Vespa scooters (pics here).

James Franco, who also stars in the film as a drug dealer named Alien, and director Harmony Korine were also at the film's premiere, held at the city's Palazzo del Casino.

Selena reportedly burst into tears when the film was given a standing ovation after its premiere screening. The 20-year-old star took to her Facebook page after her big night to reveal that she was overcome with emotion because of the film's warm reception.

"Tonight was one of the most amazing nights I've ever had. Our film got a standing ovation at the Venice film festival! I couldn't stop crying," she writes. "Being a part of such an amazing project was such a blessing... I'm truly so blessed. I'm still in shock! I hope you guys enjoy Harmony's film making. He truly is amazing."

She goes on to explain that the new movie, about a group of college students who rob a diner to fund their spring break trip to Florida, isn't for her younger fans.

"Note: this movie is not for my littles... it's rated R! I just wanted to share this night with y'all! Love you!" she says.