Selena Gomez Tweets Pics Of 'Spring Breakers' Cast In Bikinis With 'Drug Dealer' James Franco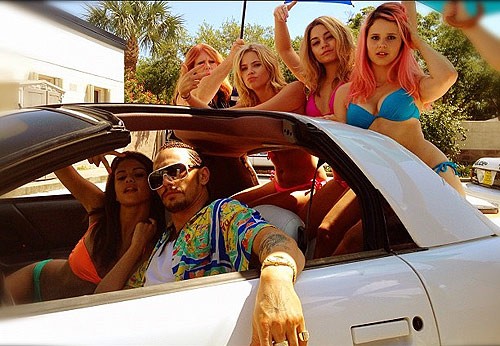 Selena Gomez shared a cast photo from the set of Spring Breakers on Tuesday giving a first look at the film's bad guy, Alien - a gun & drug dealer who bails four girls out of jail after they rob a restaurant to go to Spring Break.

The character, apparently modeled on Britney Spears' ex-husband Kevin Federline , is played by none other than James Franco.

"This is where the trouble begins... ;) ps Rachel is sexy," Selena tweeted along with the pic, referring to co-star Rachel Korine (far right).

Vanessa Hudgens, Ashley Benson and Heather Morris also star in the film.

Selena also shared a few other pics from the film's set, check them out on the following pages.

The four main characters played by Selena (Faith), Vanessa (Candy), Ashley (Brit) and Rachel (Cotty), were spotted zooming through the streets of St. Petersburg, Florida, last week wearing bikinis on Vespa scooters. See pics here!