Selena Gomez Starstruck Over Meeting Brad Pitt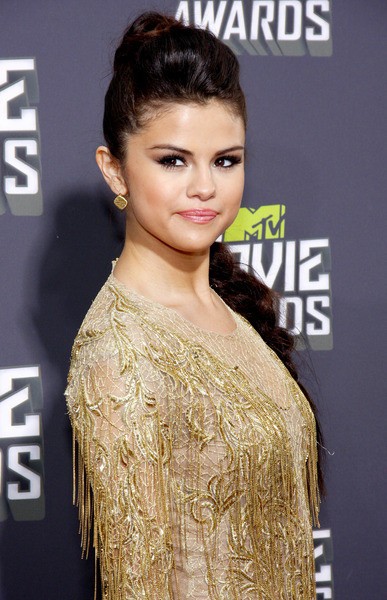 Selena Gomez found herself hiding under a table backstage at the MTV Movie Awards after meeting actor Brad Pitt.

The Spring Breakers star was relaxing in her dressing room after performing her new single, "Come & Get It," when one of her assistants told her the World War Z star wanted to meet her.

"They knocked on my door and they said Brad Pitt would like to come in and I was like, 'He can come in,'" she told Ellen DeGeneres during her Tuesday show. "I was trying to play it cool and be really nice and as soon as he walked out I ran and I hid under the craft service table for like two minutes, because I couldn't believe it was happening."

Brad wanted to take a picture with Selena because his kids are big fans of her Disney show Wizards of Waverly Place.

"He was like, 'Can I have a picture with you?' I was like, 'Can I have a picture with you?'" Selena explained.

"He's so pretty."

Selena came under fire earlier this week for her attire at the Movie Awards. The singer wore an outfit inspired by Indian culture and featured bindi on her forehead, sparking critics to brand her culturally insensitive.