Selena Gomez Slammed For Wearing A Bindi During MTV Movie Award Performance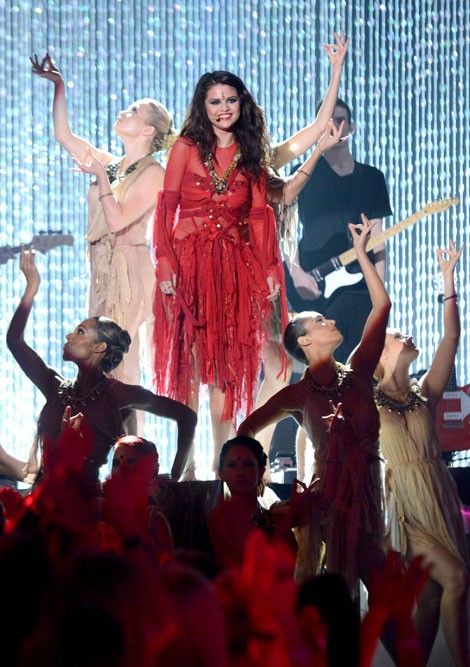 Selena Gomez made headlines at the MTV Movie Awards for a performance that some believe was culturally insensitive. During Sunday night's show she sang her new song "Come & Get It" while wearing a flowing red dress and a bindi, a forehead decoration traditionally used by women in South Asia for religious purposes.
It wasn't Gomez's seductive Bollywood-like dance moves that caused a stir. But her costume choice and face jewelry resulted in the trending topic "Cultural Appropriation" on Twitter.
Traditionally, a bindi is a bright red dot worn in the center of the forehead close to the eyebrows, but it can also be a sign or piece of jewelry. For Hindus, the place where the bindi is placed is said to be the spot of "concealed wisdom." It is supposed to protect against demons and bad luck. Over the years the symbol has evolved into a fashion statement both in and outside of India.
One user tweeted about Gome: "The bindi is not just some fashion accessory you can throw on," while another added, "Selena Gomez, take that bindi of (sic) your head, cultural appropriation is not cute."
A third follower tweeted, "CULTURAL APPROPRIATION AT IT'S (sic) FINEST, MY RESPECT FOR SELENA IS FADING AS WE SPEAK," while a fourth one wrote, "leave Bindis for Indian women."
The popstar recently explained that her song, "Come & Get It" is not about her ex-boyfriend Justin Bieber.  She told Ryan Seacrest last week: "Honestly, to be 100% real. It's not really about a specific person. The reason why I wanted this to be the first single was because it exudes... confidence and strength and that is something I'm willing to share with the world."