Selena Gomez Pulls A Miley, Sticks Her Tongue Out At 'Getaway' Premiere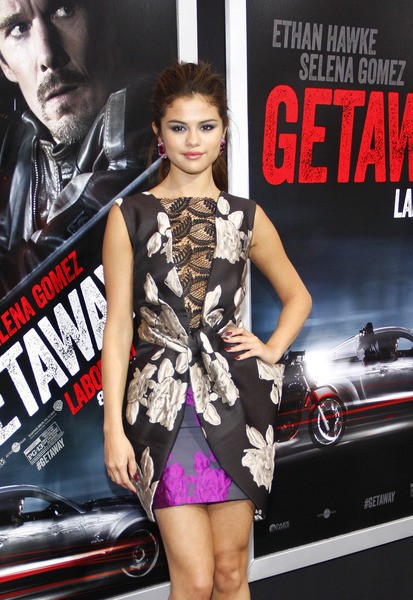 Selena Gomez attended the Los Angeles premiere of "Getaway" on Monday and stuck her tongue out on the red carpet - just like Miley Cyrus did at the MTV Video Music Awards the night before.

Cyrus made headlines and got tongues wagging after her provocative performance at the awards show, and Gomez obviously made her cheeky expression in response to the hullabaloo.
Kelly Osbourne pointed out the absurdity of Cyrus' tongue action and commented on "Fashion Police": "Look Miley's my friend and I love her, and I have her back no matter what, but as her friend I'm going to tell her - put your f---ing tongue in your mouth! I love you, but just put your tongue in your mouth."
Gomez wore a sleeveless black, white and purple patterned dress to the premiere. The 21-year-old greeted fans and signed autographs before posing on the red carpet with her co-star Ethan Hawke.
"Getaway" centers on an ex-race car driver who must drive a stolen muscle car and follow the orders of a mysterious man to save his kidnapped wife. It opens in theaters Aug. 30.