Selena Gomez Is Calm, Cool & Collected While Ex Justin Bieber Loses It In London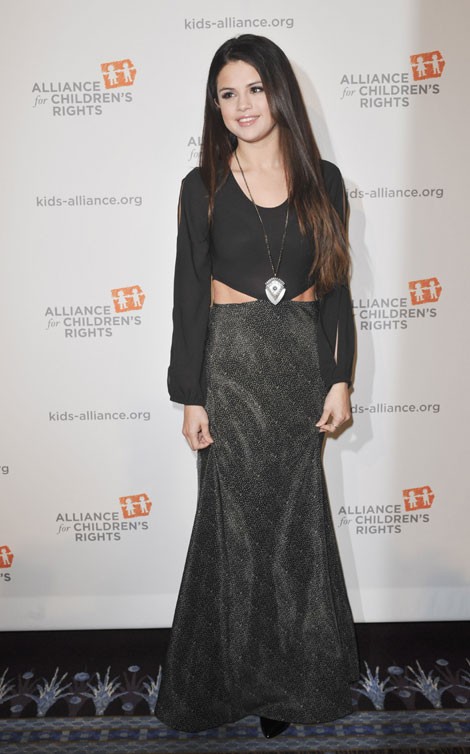 While Justin Bieber fainted backstage at a concert in London on Thursday night, his ex-girlfriend Selena Gomez was attending the Alliance for Children's Rights 21st Annual Dinner Gala in Beverly Hills, Calif.
The singer/actress looked lovely in a shimmering silver skirt paired with a black loose sleeved blouse with side cut outs.
Meanwhile, Bieber was treated by doctors at the 02 Arena in London after fainting backstage. He took a 20-minute break before returning to finish his concert.  He later tweeted: "Getting better. Thanks for everyone pulling me thru tonight. Best fans in the world. Figuring out what happened. Thanks for the love."
Earlier in the week he was criticized for arriving two hours late to perform in the first of four shows in England, and he complained last weekend of having the "worst birthday" after some of his (underage) entourage was denied entry into a club.
Bieber also lashed out at the media in a series of posts on Twitter for making up rumors and reporting negative stories about him.
Needless to say, it's been a bad week for the singer. As for Selena, she recently completed a European tour promoting her upcoming film "Spring Breakers" and appears to be on the up and up.
In a new interview with Harper's Bazaar, Gomez talks about her break up with Bieber, admitting it was difficult to have their love life in the public eye.  She explained: "It was (open to scrutiny), but that's not a factor for me because unfortunately you can't control that. To me, love is normal...(Normality) was super important to both of us. Which was great... That's how it should be."
See more photos of Selena...