Selena Gomez Heats Up The Air Canada Centre In A Belly-Baring Outfit During 'Stars Dance' Tour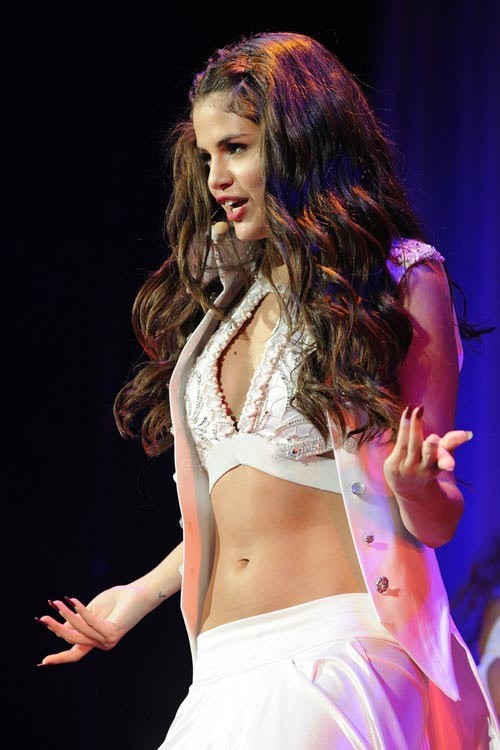 Selena Gomez showed her bare belly in a crop-top during her concert at Toronto's Air Canada center during her "Stars Dance Tour 2013" Saturday night.

The 21-year-old singer performed two shows in the Great White North over the weekend beginning Friday night at Montreal's Bell center, where Selena said the crowd brought her to tears.

"Oh, Montreal.. I haven't cried like that for a while. I [heart] YOU! Thank you," she tweeted after the show while feeling the love.

On Saturday she was back at it again, asking fans once again to "Come And Get It".

The Toronto Star reviewed Selena's Saturday night show, and you might say their take was a bit unflattering.

According to the newspaper's website, Selena's vocals aren't strong enough and she was drowned out by her backing band for most of the night.

"Gomez, dressed like an haute-couture genie, danced and gyrated her way through the evening at the ACC. She even sang — if you could hear her," critic Nick Krewen wrote.

He also called her performance "charisma-free" and said some of her routines were "unintentionally hilarious". Ouch!

Selena will be on hand for Sunday night's MTV Video Music Awards, before heading off for the European leg of her tour, which starts August 30 in Copenhagen, Denmark. She'll be sitting right next to BFF Taylor Swift in the front row at the awards ceremony, right next to Bruno Mars, Lady Gaga and Katy Perry -- who we assume will be leaving early as she's set to close the show with a live performance of her new hit "Roar" from under the Brooklyn Bridge.