Selena Gomez Gets A New Tattoo & Shows Off Her Bikini Body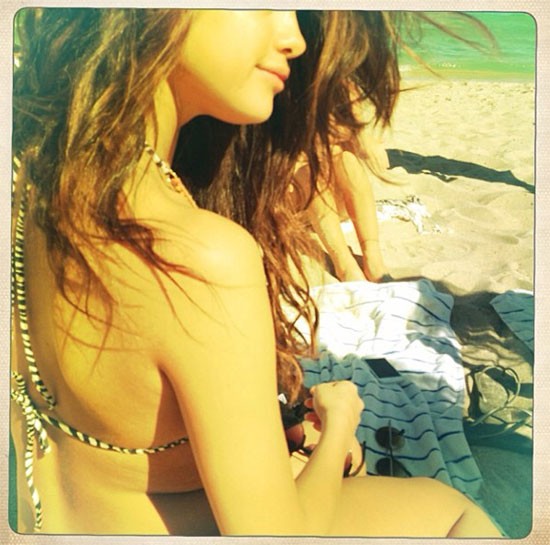 Selena Gomez took a break from her "Stars Dance" tour on Monday by hanging out at the beach in Florida. The singer showed off her figure in a zebra striped bikini and posted some snaps on Instagram. In one photo she's sitting with friends on the beach. She captioned it: "Off duty."
The pop star was recently spotted with a new tattoo on her right hip featuring a phrase in cursive. She also has a music note on her wrist and the Roman numerals for 76 on her neck, symbolizing the year of her mother's birth.
The 21-year-old recently told concertgoers that she doesn't want to reveal too much flesh to the public.
She told fans at the Mohegan Sun Arena in Uncasville, Connecticut, "Every day I get told I'm not sexy enough or I'm not cool enough or if I did this or if I did that, I would have people who love me. Look at this room! I don't have to do any of that to have love!"
Gomez recently admitted that she misses her years of teen acting as she makes a transformation into an adult star. The former "Wizards of Waverly Place" star explained on UK TV show "Lorraine," "I feel like half the time I feel like I'm 15 and then I feel like I'm 21 then I feel like I'm 30 when I'm sitting at home by myself on a Friday night watching the same episode of Friends."