Selena Gomez Dishes On Her Relationship With Justin Bieber In The March Cosmopolitan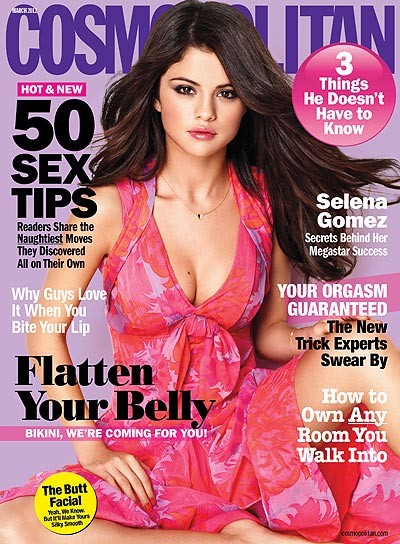 Selena Gomez steams up the March issue of Cosmopolitan magazine wearing a pink Nanette Lepore dress.

The teen singer discusses her relationship with pop star Justin Bieber in the new issue, and she gushes over being in love and having lots in common.

"I'm just like every 19-year-old girl. If you're in love, you're in love to the fullest, and you just want to go to the movies, hang out, and be as normal as possible," she says.

"I'm fortunate that I've found someone who has that philosophy."

Selena and Justin stopped hiding their relationship after a post-Oscars party last year after initially denying rumors of their relationship. Selena even referred to Justin as being "like a little brother" while visiting the Ellen DeGeneres Show in September 2010.

"He's little. He's like my little brother. That's weird to me," she told Ellen, just months before the couple went public.

The "Hit The Lights" singer also tells the magazine that in a previous relationship with another big star she always "had to hide everything" and use different doors and "take separate cars" than her boyfriend at the time, all to avoid the public eye. In the end she says it wasn't worth it.

"It was like a year of my life completely wasted," she says.

The March issue of Cosmopolitan hits newsstands everywhere Tuesday, February 7th.