Selena Gomez Dines With Pink Haired Demi Lovato Following Justin Bieber's Arrest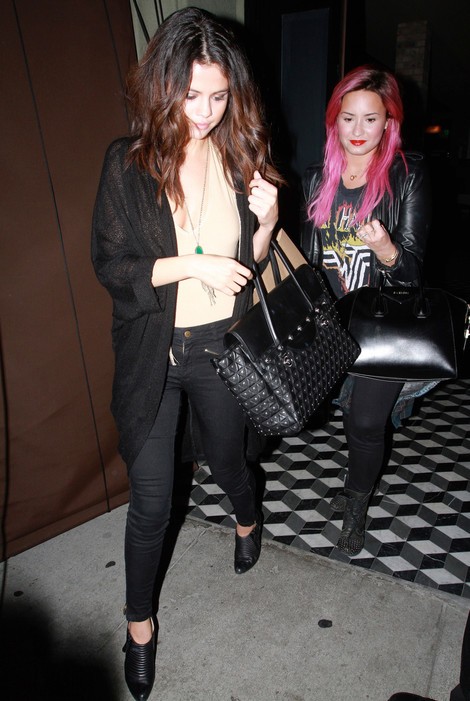 While her on/again, off/again boyfriend Justin Bieber was was dealing with an arrest for driving under the influence in Miami, Selena Gomez hit the town with Demi Lovato at Craig's in West Hollywood on Thursday night.
The childhood pals had a falling out while Lovato was going through drug and self-harming issues but have reconnected. Gomez recently told Seventeen magazine: "I've known her since we were seven—and we did fall apart for a while. She was going through things and I was so young and it was confusing.'"
She added, "I couldn't imagine going through some of the things that she went through, and the fact that she is who she is today is insane—she's one of my inspirations."
The pair wore casual clothes for their dinner date, and Lovato debuted her new look - hot pink hair. Neither have publicly commented on Bieber's troubles, which have been dominating headlines. But we're guessing the pair discussed the pop star behind closed doors.
Meanwhile, a series of graphic text messages reportedly between Bieber and Gomez in which the singer included photos of his manhood are likely fake. Photos of the texts were posted by RadarOnline, but Gomez's rep, Jill Fritzo, told Access Hollywood, "These texts did not occur between the two of them."