Selena Gomez And David Letterman Made Justin Bieber Cry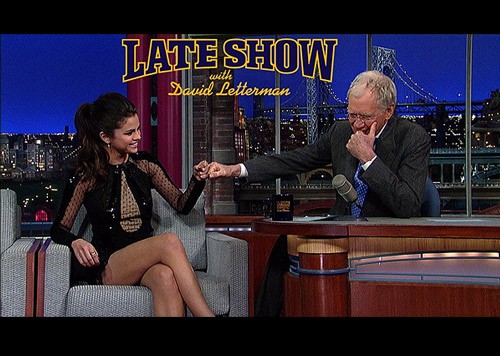 Selena Gomez got in a couple of jabs aimed at ex-boyfriend Justin Bieber during her visit to the Late Show With David Letterman on Monday night. The actress was in the Big Apple promoting her new film Spring Breakers.

"Wow, that's almost an outfit you're wearing," Letterman said when Selena, wearing a very short skirt and showing plenty of leg, sat down for her interview.
The two discussed her new film's director, Harmony Korine; and Dave brought up one of his past appearances, saying there was "something wacky" about him. Selena said her mom was a big fan of the director and encouraged her to read the script and ultimately take the role.
Selena defended Korine, revealing she originally thought "this guy's nuts" when she watched a few interviews with him on YouTube; but now she says he's "really cool" and "completely different" now that he's married and has a child.

The conversation soon turned to Bieber, and Letterman asked Selena if she's dating anyone yet (she's not) now that the high-profile couple have split.

"I remember last time you were here... you were with a Justin Bieber..." Letterman begun. "That's not going on now?"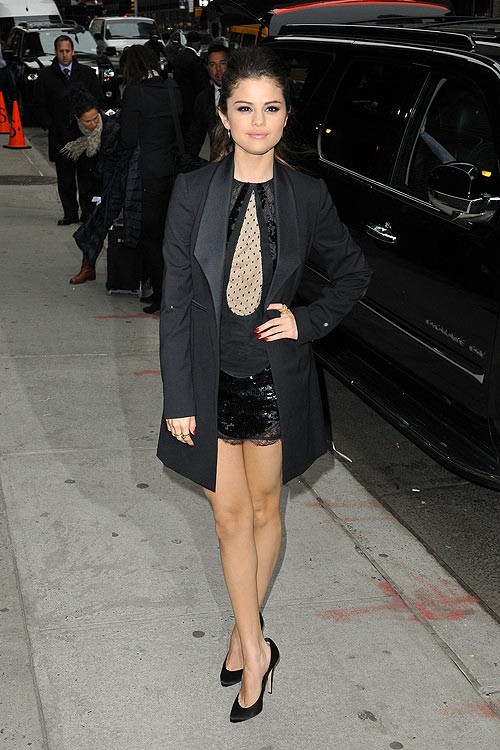 "I'm single..." Selena replied. "...I'm so good."

"Now, the last time he was on... he and I got into a conversation and I -- he said something and then I said something, and then he said something and I said something, and... I made him cry," Letterman said, making Selena giggle with laughter.

"Well then, that makes two of us!" Selena replied.

The remark had Letterman doubled-over with laughter, and the two fist-bumped afterward.

After discussing Selena's upbringing and getting ready for a preview of "Spring Breakers" Dave side-tracked, saying, "Are we gonna see a clip of this -- That was pretty good, that was very strong!"

"What?" said Selena.

"...'that makes two of us,'" Dave replied. "That was good."
Watch the complete March 18th episode, including Selena's full interview, at CBS.com.