See The Beastie Boys' New Action Figure Video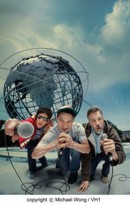 The Beastie Boys have been turned into Action Man figures for a new video directed by Spike Jonze.

The rap trio's miniatures fight off military attacks, zombies and sharks in the short film which accompanies Don't Play No Game That I Can't Win, which also features the action figure likeness of singer/songwriter Santigold, who appears on the track.

The grisly video starts with the group performing at an outdoor festival. The Beastie Boys and Santigold are forced to make a quick getaway when they come under attack from a mysterious military organization.

The rappers take the fight to the mountains, where they encounter the undead and call on the Yeti to help them escape by helicopter. They are shot down over the ocean and Santigold has to rescue the trio from sharks.

The video, which has been posted online, ends with the Beastie Boys and Santigold on vacation.