Second Full Trailer For 'The Hobbit' Released, Features More Action & More Gollum!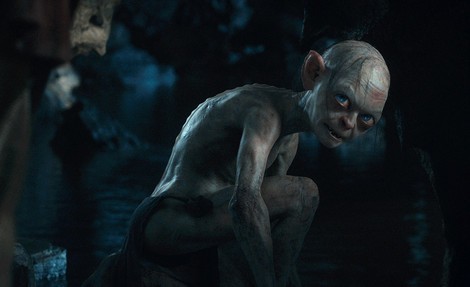 Three days before "Hobbit Day" Warner Bros. films has given us an early present: the second full trailer for The Hobbit: An Unexpected Journey (watch it below!)

While the first 2:27 clip introduced us to the Dwarf party and a few of the familiar locales from J.R.R. Tolkien's classic -- such as Hobbiton, Rivendell and Gollum's cave -- the second 2:32 trailer is filled with plenty of action.

But while the wizard Gandalf explains that the "dwarves are determined to reclaim their homeland" in the Lonely Mountain, there's still no mention of its current inhabitant -- the dragon Smaug.

There is, however, a lot more Gollum -- including a good tease of the riddle scene with Bilbo Baggins; Bilbo in action with his glowing sword sting, the Troll burglary and a quick glimpse of a new character who doesn't even appear in the book.

That character, Radagast the Brown, actually had a bigger part in the book version of The Fellowship of the Ring, helping lure Gandalf to the evil wizard Saruman's tower where Saruman imprisoned him.

Radagast is Gandalf's cousin, and he'll get some screen time, according to CinemaBlend.com. In the trailer, he's the one who mentions a dark power finding its way back into the world.

The Hobbit: An Unexpected Journey hits theaters December 14th and stars Martin Freeman as Baggins, Richard Armitage as the Dwarf leader Thorin Oakenshield, Ian McKellen as Gandalf and Andy Serkis as Gollum. Sylvester McCoy plays Radagast.

The film's second and third installments, The Hobbit: The Desolation Of Smaug and The Hobbit: There and Back Again, will be released on December 13, 2013 and July 18, 2014, respectively.

Oh, and what's Hobbit day? It's September 22 -- the day of both Bilbo Baggins and his nephew Frodo's birthdays.

Check it out...


And watch the first trailer: