Second And Third Films In Peter Jackson's 'Hobbit' Trilogy Get New Titles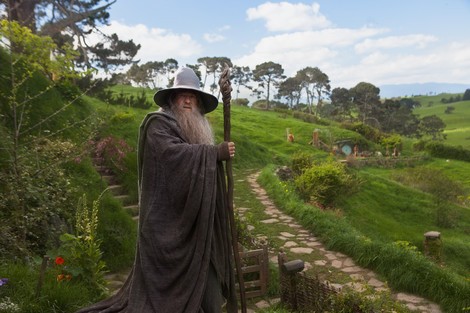 Peter Jackson's recently announced third Hobbit film has officially been named.

The Lord of the Rings director confirmed that the planned two-film adaptation of J.R.R. Tolkien's classic novel would be turned into a trilogy shortly after this year's Comic Con; where rumors of a third film started.

Jackson announced that a third film would be added thanks to a wealth of material in the appendices following the third book in the Lord Of The Rings trilogy, "The Return Of The King"; and now that new film has a title -- after a little shuffling around -- as announced by Warner Bros. Pictures & MGM.

The first film's title will remain the same -- The Hobbit: An Unexpected Journey -- but the planned title for the second film, The Hobbit: There and Back Again, will now be (fittingly) the title of the third film.

The second film will be retitled The Hobbit: The Desolation Of Smaug, as it mostly pertains to chapters dedicated to Middle Earth's most famous dragon.

The first film hits theaters December 14, followed by The Desolation of Smaug on December 13, 2013 and There and Back Again July 18, 2014.