Season 12 Begins On 'American Idol'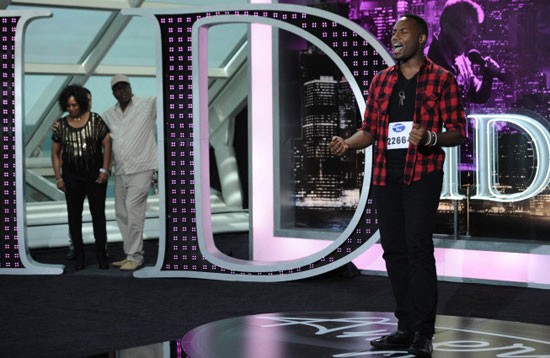 "American Idol" kicked off season 12 in New York City with a new judging panel but the same old drama and bad singing auditions.
Randy Jackson, Keith Urban, Nicki Minaj, and Mariah Carey met in New York City to the screams of thousands of fans hoping to earn a golden ticket and a trip to Hollywood.
The auditions didn't get off to a very good start with Mike's audition who put his own words to the tune of "We Will Rock You."  His efforts did not earn him a golden ticket.
Mike's audition set the tone for the night with no split decisions and a search for singers who excelled in vocal gymnastics.
When she was young Tina attended Mariah camp and brought some photos to prove it.  After her audition she got four yeses for her efforts.
After clips of more yes auditions, James tired his hand at singing but earned only a bad vocal don't sing comment from Randy and four nos.
Citing Mariah as her inspiration, Christina sang "Summertime" and won herself four yeses from the judges.
Amputee and cancer survivor Evan regaled the judges with a cappella performance of "I'm Yours" and accompanied himself on the guitar for "Dead or Alive"; but despite having a good singing voice and performance he got a chorus of four nos from the judges.
For the first time Idol opened up the auditions to people nominated by friends and family on the internet.  Jessica won a chance to perform before the judges but failed to earn herself a golden ticket with four nos.
Israeli born Shira came to America for a chance at the American dream.  She got off to a good start with four yeses from the judges.
Brooklyn native Frankie has been regaling subway passengers with his singing and wowed the judges with his performance to earn a golden ticket.
Day two of the auditions started out with nos for Benjamin.  Rozanna, and a number of other singers but things turned around when Sarah came down off the Blueberry farm and shocked the judges with her performances of a Carrie Underwood song and a Nicki Minaj song.  She got four yeses for her performance.
Albert got four nos and there were some clips of more bad auditions but Angela, despite being hard of hearing, earned four yeses from the judges for her performance.
Brent daydreamed of getting four yeses and a golden ticket to Hollywood, but when reality struck his performance wasn't good enough and he only got four nos from the judges.
Gurpreet says that he is also known as the Turbanator – for his large collection of turbans – brought the only split decision of the night when Keith was the only judge to say no.
In the final audition of the night, Ashley had her entire family present when the judges gave her a decision of four yeses.
After hundreds of singers auditioned in hopes of going to Hollywood, only 41 singers would move on to the next round.
On Thursday, the auditions move to Chicago for another episode of "American Idol."