Seann William Scott Feared Fiancée Would Dump Him After Watching His Movies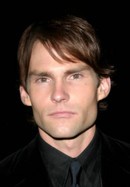 American Pie star Seann William Scott was terrified his lingerie model fiancée would dump him when she checked out his films - because he always seems to play clueless, vulgar characters.

Scott, who is engaged to marry Victoria's Secret beauty Lindsay Frimodt, admits he was terrified when his girl told him she was planning a marathon of his movies.

He says, "She had seen American Pie but when we first started dating she hadn't seen the other movies, but then while we were shooting (the latest) American Pie (film) she just thought she'd start watching some of the films I had done and I thought, 'Oh, no!'"

"She was like, 'I saw American Pie 2 and I'm like, 'I get peed on in that movie... What did you think?' She was like, 'It looked like you had a lot of fun.'"
"Then the next weekend she saw American Wedding, where I eat dog poo... but she stayed with me. That's how I knew she was a trooper."