Sean Young Demands An Apology From Academy Awards Bosses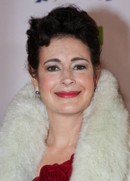 Actress Sean Young is demanding an apology from Academy Awards bosses following her arrest at the official Oscars after party, where she was accused of hitting a security guard.

The Blade Runner star became embroiled in a dispute with a bodyguard at the star-studded Governors Ball in Los Angeles on Sunday and was placed under citizen's arrest as police were called to the scene. 
She was taken into custody and booked on suspicion of misdemeanor battery, and was later released.

However, Young insists she was not causing any trouble as she snapped pictures of the celebrity arrivals outside the post-Oscars bash, and she claims to have been left with bruises on her arms, where she was reportedly grabbed by the bodyguard.

She tells X17online.com, "What happened was I was standing behind the rope and I was saying hello to people and I was taking pictures with them. Then a security guard asked me to leave and I said, 'Why do I have to leave?' and he said, 'Just come this way ma'am.' Then he grabbed my arms, and we actually took pictures at the police station last night (of her injuries)... He started pulling me... and I basically moved my arm (back) and it just kinda got him right straight in the face and that's when they went postal on me (got mad at me)."

Young is adamant the incident will be resolved amicably once Academy Awards executives realize what happened to her, but if not, she's ready to pursue legal action - because she's confident CCTV video tapes will prove she did no wrong.

She says, "The Academy is more likely gonna issue a public apology apologizing for the bad judgment of the security guard... It was unfortunate the Academy has devolved in this way... I was well behaved, it was fine. And the surveillance tape will bear that out actually... and if I don't get a public apology I will make a lawsuit. It's atrocious behavior."