Sean Penn Partly Responsible For Iran's Release Of Jailed American Hikers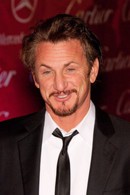 U.S. hikers Josh Fattal and Shane Bauer appear to owe Oscar winner Sean Penn a huge debt of gratitude following their release from a prison in Iran - the actor was reportedly partly responsible for their freedom.

The two men spent two years behind bars after they were convicted of spying. They were released on Wednesday.

Reports suggest Penn played a big role in securing their freedom after urging the President of Venezuela, Hugo Chavez, to speak to Iran's President Mahmoud Ahmadinejad about the plight of the hikers.

Chavez is an ally of the Iranian leader.

Penn's representative Mara Buxbaum has confirmed the report published by Reuters, but declined to add details.

On Friday, Venezuelan state media representatives reported that Chavez was part of the mediation process that resulted in the release of Fattal and Bauer.