Sean Faris Rings in the Holidays with New Movie 'Christmas with Holly'
ABC and Hallmark Hall of Fame are bringing some Christmas cheer tonight with the premiere of the original movie Christmas with Holly. Based on the novel by Lisa Kleypas, it tells the story of Mark Nagle (played by Sean Faris, The Vampire Diaries), who is raising his niece Holly after the tragic death of her mother. When Maggie (Eloise Mumford) arrives in town, she not only has chemistry with Mark but might be the one person who can get Holly to open up again.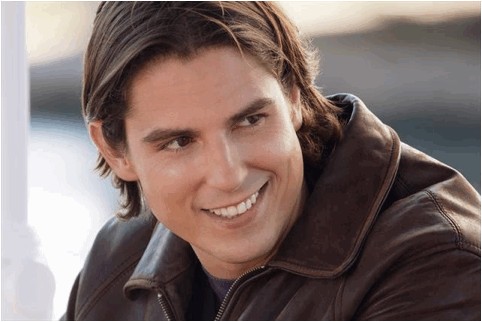 "There's a lot of great lessons within the story," said Sean Faris in a recent interview with Digital Airwaves. "You have a whole family that has gone through a tragic loss and there's a very strong sense of what families go through in life. As we get older, there's going to be loss, there's gonna be hard times, but ultimately through love and support and perseverence, you can get through."
"I think what sets this one apart, especially for Hallmark, is it wasn't just a love story or a family support story," he continued. "There were a lot of comedic moments through it. You have the three men and a little lady situation there, the new challenges to overcome and the way you find yourself learning, basically, trial by fire.
"You have a little girl who's gone mute because of the loss of her mother and this young man is going to take on this great new challenge and there's no stopping him. The most important thing to him is this little girl and being there the way his sister would've wanted him to."
For Sean, the most enjoyable part of making the film was working with his young co-stars, Lucy and Josie Gallina, who shared the role of Holly. "Josie and Lucy were the highlight of my day, every day that I stepped on the set," he said. "They just brought a ray of sunshine to the whole thing. How can you not have a great time with two kids that were definitely raised right? To them it wasn't work. They were having so much fun. It just really made everything kind of come together."
"I think the most fun scene in the whole thing is the turkey explosion," he added. "I don't know what made the final cut. That's the scene I'm curious to see."
What holiday movies are Sean's favorites? "It's so hard to pick one! I love A Christmas Story, Home Alone [and] National Lampoon's Christmas Vacation," he said. "If I had to pick one, I think it's A Christmas Story. That's the one that reminds me of Christmas."
And for those of you that want to put something he's done under your tree, Sean has a recommendation for you, too. "It's a couple years old now, it's called Forever Strong. I find that I've done a lot of movies that have a lot of positive messages," he said. "That one is essentially, it's loaded with a great message and it comes back to support and understanding from your family and love once again." That's a sentiment that Holly would approve of.
Christmas with Holly airs tonight at 9 PM ET/PT on ABC.
For more from Brittany Frederick, visit Digital Airwaves and follow me on Twitter (@tvbrittanyf).

(c)2012 Brittany Frederick/Digital Airwaves. Appears at Starpulse with permission. All rights reserved. No reproduction permitted.