Sean 'Diddy' Combs Mistaken For Kanye West At Miami Art Show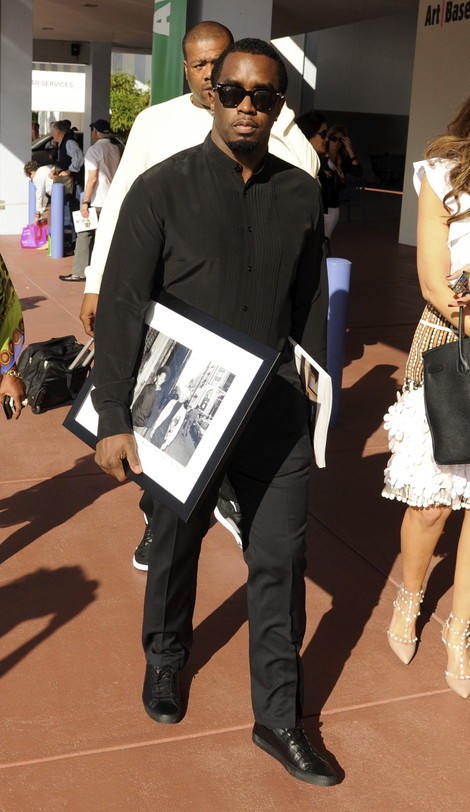 On Wednesday, Sean 'Diddy' Combs was left embarrassed when he was mistaken for his hip hop rival Kanye West at an art show in Miami.

The 44 year-old entrepreneur was among the attendees at an Art Basel event at the Miami Beach Convention Center, and the pair was mixed up by Jeffrey Deitch, the former director of the Los Angeles Museum of Contemporary Art.

Deitch has revealed he accidentally confused the two rappers, but insists Combs was able to laugh off the embarrassing incident.

He tells New York Post gossip column Page Six via email, "There was a big crowd gathered at the entrance to an art fair booth. I asked the dealer what the commotion was about and she said, 'Kanye is here.' I could only see the person from the back, and went over to say 'Hi Kanye'. To my great embarrassment, it turned out to be P. Diddy (Combs). He thought it was very funny, especially since we had spent several hours together visiting my street art show in Los Angeles."

West has also been present during the Art Basal events in Miami, and he participated in a panel discussion about design with Swiss architect Jacques Herzog.

During the talk, the rapper bragged about his artistic talents, telling the crowd he was "considered to be prodigy at age 14 in Chicago" and even compared himself to successful fashion designer Ralph Lauren.

West also complained about the public failing to embrace the promo for his recent track Bound 2, which featured him cavorting with his topless fiancée Kim Kardashian: "Famous and frustrated is the most irritating f**king thing... like I am frustrated 'cause I made a film and nobody liked it."