Sean 'Diddy' Combs Makes Hilarious Turn As Lord Wolcott In 'Downton Abbey' Spoof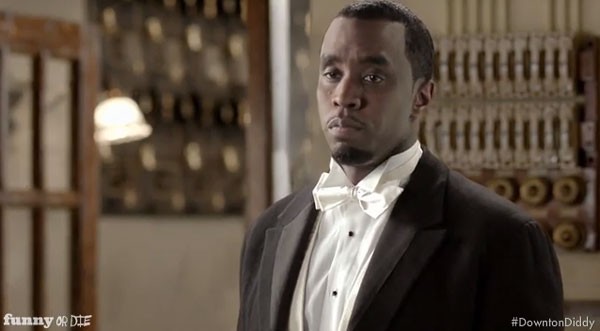 Sean "Diddy" Combs made a stunning declaration on Twitter on Wednesday. He wrote: "I have to admit that Downton Abbey is one of my favorite shows - and thats why Im so excited today."
He then posted: "MY BIG NEWS: So happy to announce that Im a series regular on DOWNTON ABBEY - my favorite show + i'll be debuting a sneak peek tonight 12am PST!"
It was later revealed that the rap mogul was promoting a cheeky new FunnyOrDie skit.
Introducing the clip, he explained: "Last week it was reported that they have cast the first black cast member...the only problem with this is I already broke down that barrier. I'm the first black cast member... and I got the scenes to prove it."
With the help of CGI, Diddy's character, Lord Wolcott, interacts with various characters, often with hilarious consequences.
In one scene, Lord Wolcott, dressed in a period costume, turns down the same-sex advances of Thomas Barrow because of his attraction to all the female characters in the series. In another scene, Wolcott appears to host "the first ever white party" for the cast.
He later offers Maggie Smith and Penelope Wilton's characters his brand of Ciroc vodka - before asking them to kiss.
In reality, actor Gary Carr is joining the cast as the first black cast member. Producers also recently announced they are creating a clothing line based on the early 1900s styles seen in the show.
The new season of "Downton Abbey" premieres in the United States in winter 2014.