Sean Bean To Play A Transsexual In New TV Drama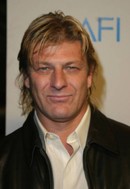 British movie tough guy Sean Bean has donned a dress for his new role as a transsexual in a U.K. TV show.

The actor is best known for his hardman roles in Sharpe, The Lord of the Rings franchise, and Bond movie Goldeneye, but he will show off his feminine side after pulling on a blonde wig and a sparkly sequin dress for new BBC drama Accused.

Bean will play a man going through a sex change who is caught up in a crime of passion in the courtroom drama, penned by respected screenwriter Jimmy McGovern.

The star says, "I've wanted to work on a Jimmy McGovern drama for a while and I think this cracking script really delivers a powerful, emotional drama for the audience."

BBC1 boss Ben Stephenson adds, "He's playing a transsexual, a brilliant story, untold I think on mainstream television."